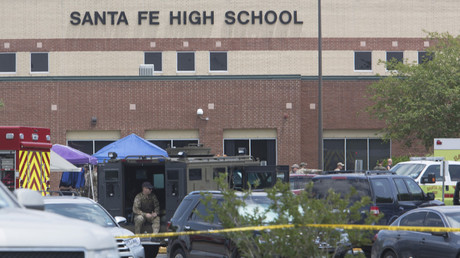 US officials and public figures have reacted with various brands of outrage following the fatal shooting of 10 people ‒ one teacher and nine students ‒ at Santa Fe High School in Texas.
Survivors of the Parkland High School shooting struck a frustrated tone as they bemoaned the lack of action from US politicians since the February attack on their school, in which 17 people died.
READ MORE: Baltimore passes 100 homicides this year, mayor blames gun makers
David Hogg, Cameron Kasky and Emma Gonzalez, who have since gone on to become high-profile advocates for gun control, each took to Twitter to deliver their verdict about the shooting and the influence of the National Rifle Association (NRA) on US politics.  
Some commentators took exception to the Texas Lieutenant-governor Dan Patrick's assertion that there are too many entrances to schools, and that's why shootings happen.
READ MORE: Tucker Carlson goes bananas after ex-cop claims AR-15 can shoot 150 rounds in 15 seconds (VIDEO)
"Had there  been one single entrance possibly for every student, maybe he would have been stopped," Patrick said. His comments drew the ire of broadcaster Piers Morgan, who issued a particularly withering response.
Calls for more gun control are common in the aftermath of mass shootings, yet some were quick to point out that standard laws prohibit anyone under the age of 18 from owning a gun. The reported shooter, 17-year-old Dimitrios Pagourtzis, is said to have used a shotgun and a .38 revolver he took from his father.   
Others repeated the controversial suggestion that teachers be armed in order to neutralize school shooters before they get a chance to cause widespread damage.
Like this story? Share it with a friend!
Via RT. This piece was reprinted by RINF Alternative News with permission or license.