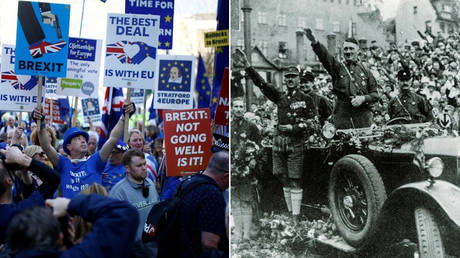 A Conservative seeking election as a councillor in May has claimed a Facebook post, where he compared those who signed the 'Revoke Article 50' petition to supporters of Hitler's Nazis, was a "joke" that had been misunderstood.
Carl Husted, who is standing in the Wollaton West ward of Nottingham city council in the upcoming local elections on May 2, insists he made the remarks "to show that other people reference the Nazis at inappropriate times."
READ MORE: 'PM May burying head in sand over Tory institutional Islamophobia' – Conservative peer
In the now-deleted April 3 post, Husted claimed that the petition to cancel Brexit, which has over 6 million signatories, had the same "number of people who voted for Hitler's Nazi party in 1930 Germany."
His remarks prompted outrage from a number people on social media. One Twitter user argued that this is "no joke," labelling the comments as "incitement to violence," and called on the Tories to kick Husted out of the party. Another grumbled "no wonder politics is becoming a laughing stock in the UK."
This is NOT a joke – it's incitement to violence which is against the law. I hope #Tories grow a backbone and expell him!

Tory candidate compares Remainers to people who voted for the Nazis https://t.co/eAcnVlCPbq

— Trish McLaughlin (@TrishMcLaughli5) April 5, 2019
This fatuous imbecile is actually standing for election, no wonder politics is becoming a laughing stock in the UK. Oust him now, before bigots think about voting for him.

— NB (@nb_nige) April 5, 2019
This seems to be a global agenda… Around the world Right leaders are accusing the left of antisemitism and comparing them to the Nazis. Old practice to put the blame on the other side.

— CoiNNoiR (@CoiNNoir) April 5, 2019
Others didn't see what the big deal was about.
Husted has defended his comments, insisting it was a "Godwin's law joke," the Nottingham Post reports. Godwin's law is an internet phenomenon which states that as more people discuss a subject online, the chances of someone mentioning Nazis increases.
Think your friends would be interested? Share this story!
Subscribe to RT newsletter to get stories the mainstream media won't tell you.
Via RT. This piece was reprinted by RINF Alternative News with permission or license.