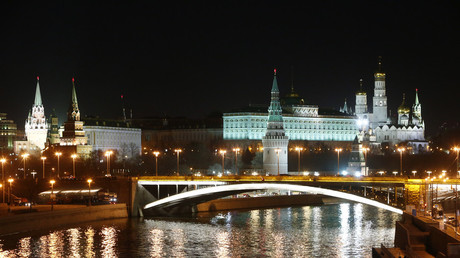 How much do regular Americans actually care about Russia's alleged 'meddling' in the 2016 presidential election? If recent evidence is anything to go by, it's not as much as the media would lead us to believe.
1. 'Democrats don't give a f**k about Russia' – Jon Stewart
In his first stand-up show since leaving The Daily Show, comedian Jon Stewart told his audience that Americans don't really care about Russia at all – and admitted that if the Russian government had (allegedly) helped Hillary Clinton win the presidency, Democrats would be turning their heads and looking the other way, according to The Daily Beast.
"But now we've got to act like it's super important," he said, "because we think it could end his presidency…Let's be honest with ourselves. We don't really give a f**k about Russia."
Stewart then called on Americans to stop trying to impeach Donald Trump over Russia allegations and instead told them to beat him "in an election, with ideas."
2. CNN employees admit Russia story is "bullshit" and not what people care about
Last year, controversial conservative activist James O'Keefe managed to obtain hidden-camera footage of John Bonifield, a senior producer at CNN, admitting that the media spectacle around 'Russiagate' was "mostly bullsh*t" and that the network was focusing on it so much because it got good "ratings."
"It's mostly bullsh*t right now. Like, we don't have any big giant proof," Bonifield said, referring to allegations that Russia was involved in Donald Trump's election victory. Bonifield even admitted Trump was "probably right" to call the whole thing a "witch hunt."
But Bonifield wasn't the only CNN employee who had criticisms of the network's Russia-focused coverage. In January, CNN politics reporter Maeve Reston admitted that Russia was "all we talk about" at CNN – but said that when journalists talk to real people on the ground, "they don't care" because the Russia story "doesn't have any effect on their lives."
3. DCCC official admits voters don't care about Russia
In June, an official for the Democratic Congressional Campaign Committee (DCCC) stunned some ardent Russiagate fanatics when she admitted that Russia wasn't really a top concern for most voters when thinking about the upcoming November midterm congressional elections.
Speaking on Fox News, Meredith Kelly, the communications director for the DCCC said that while some people were very focused on the Russia story, it wasn't the issue coming up with voters in the run up to the elections.
"It's not the first, second or third thing that voters are telling us," Kelly said.
4. Polls show Americans don't care that much about Russia
Polls and surveys have also shown that ordinary Americans don't care about Russiagate and the special probe into alleged Russia election interference as much as the media does.
While it is true that Trump supporters are the least likely to care about the Russia investigation, polls have shown that Russia is not the top issue for Americans across the board. A Politico/Morning Consult poll last year found that only 35 percent of Americans believed that the Russia investigation should be the "top priority" for Congress. More Americans gave top priority status to the reform of medicare and social security, tax reform, infrastructure spending and immigration reform.
To top it off, a CBS News poll in May also revealed that a majority of Americans now believe that the Russia investigation is "politically motivated."
Via RT. This piece was reprinted by RINF Alternative News with permission or license.