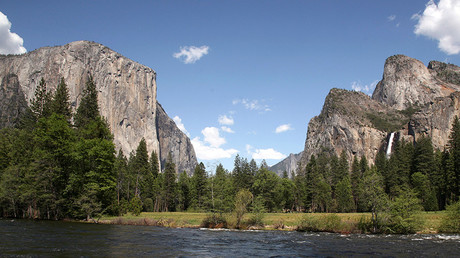 President Donald Trump has donated over $78,000 – his entire first-quarter salary – to the National Park Service, leaving his critics spluttering about broken promises and the cost of security for his residences in New York and Florida.
Trump, who was a billionaire real-estate tycoon before running for president, initially tried to decline a salary altogether, but it turned out he was legally required to take one. He then said he would donate all of it to a charity, and even invited reporters to give suggestions.
On Monday, White House spokesman Sean Spicer told reporters that "every penny" Trump was paid between January 20 and the end of March will be handed over to the NPS.
Spicer presented a check for $78,333.32 to Interior Secretary Ryan Zinke and Harpers Ferry National Historic Park Superintendent Tyrone Brandyburg.
READ MORE: Trump's new Interior Secretary rides to work in cowboy hat
The Center for American Progress, founded by prominent Democratic campaigner John Podesta, quickly blasted the donation as a drop in the proverbial bucket.
Other Democrats estimated the amount would cover just over 12 hours of security for Trump's New York residence, where First Lady Melania Trump has remained since the inauguration, or the Trump resort in Mar-a-Lago, Florida, where the president prefers to spend his weekends.
Trump is donating his "78k check" to NPS.

78k is also what US taxpayers pay for 12.5 hrs of security for Melania living in NY & not the WH.

— Tony Posnanski (@tonyposnanski) April 3, 2017
If Trump donates his salary for the entire 4 years it will be nearly $1 million. Cost of keeping Melania in NY for 3 days is $1.2 million.

— Millennial Democrats (@Millennial_Dems) April 3, 2017
One of the "alternative" NPS Twitter accounts, launched after Trump's inauguration, described the donation as a "damned insult" and a rude gesture to all "alt" accounts purportedly set up by staff that worked under Trump's predecessor Barack Obama.
Trump donating $87K to @NatlParkService while taking $3Million golf weekends is a damned insult.

— AltAltNPS (@realAltAltNPS) April 3, 2017
Make no mistake about it, Trump picked the @NatlParkService as a flip of the bird to the alt Twitter accounts.

— AltAltNPS (@realAltAltNPS) April 3, 2017
Trump's National Park Service donation is an insult to the NPS. What's next, a donation to PBS? Or Trump's local mosque? Unbelievable.

— ThisLandisOurLand (@ThisLandisOurs) April 3, 2017
The president's supporters, however, delighted in the gesture – and the effects it had on the opposition.
Via RT. This piece was reprinted by RINF Alternative News with permission or license.