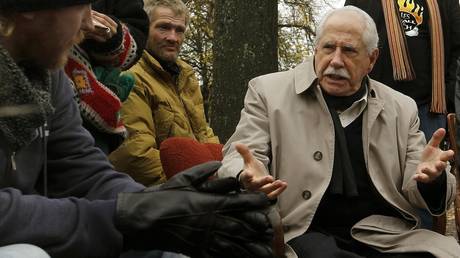 A new unlikely sensation entering the 2020 Democratic primaries could become a headache for the political establishment – and it isn't the 77-year old independent senator from Vermont.
Mike Gravel (D-Alaska) is a former senator who is even older than Bernie Sanders and more vehemently critical of US foreign policy, imperialism and the surveillance state. The 88-year-old, who served in the Senate from 1969 to 1981, openly admits he threw his hat in the ring for the sole purpose of qualifying for the debates, in order to ensure that certain issues are not neglected.
It. Is. On.

Sen. Mike Gravel has officially filed to run for president. Our only aim is pushing the field left by appearing in the Democratic debates.

Donate as little as you like, but help us get to the necessary 65k donors! Official launch is April 8.https://t.co/eDC2ykdaL3

— Mike Gravel (@MikeGravel) April 2, 2019
Despite being an octogenarian, Gravel is still up to his unorthodox ways, recruiting two 17-year old self-proclaimed lefties as his campaign managers. After announcing his candidacy, a fundraiser was launched to help the ex-lawmaker meet the requirements of 65,000 donors for debate eligibility.
As a senator, Gravel gained national recognition for his efforts to end the draft during the Vietnam War and entering The Pentagon Papers released by whistleblower Daniel Ellsberg into the public record.
Gravel previously ran for president in 2008. In 1972, he also unsuccessfully campaigned to be the running mate of George McGovern, the post that ultimately went to Sargent Shriver.
Gravel was briefly a member of the Libertarian Party, after becoming increasingly disillusioned with the Democratic Party's pro-war positions after his 2008 bid. His candidacy did gain notoriety for his unusual debate appearances and ornery sense of humor. When debating the Iraq War, Gravel turned to the other candidates on stage and exclaimed "some of these people frighten me!"
He went on to blast then-candidate Joe Biden (another 2020 contender) as "having a certain arrogance. You want to tell the Iraqis how to run their country. I gotta tell you, we should just plain get out!"
Gravel's feeling about Biden don't appear to have changed.
Want to see the true darkness underlying the centrist consensus?

Just be critical of any of their sacred touchstones–genuinely creepy (and conservative) Joe Biden, AIPAC, the military–and pretty soon you're a demonic outsider trying to ruin America in a grand leftist conspiracy.

— Mike Gravel (@MikeGravel) April 3, 2019
His devoted online following from 2008 seems to have reappeared as a perfect fit for today's political climate, in which social media plays an increasingly vital role in political campaigns. His anti-war positions are resonating with young left-wing voters unhappy about the current lineup of 2020 candidates.
Mainstream media has been quick to lampoon Gravel and scare-monger voters about his controversial views on the September 11th terrorist attacks possibly being an inside job.
It does appear that the elderly ex-senator is serious about planning to drop out of the race after the debates, once he has made sure the Democrats discuss the issue of American interventionism abroad.
Think your friends would be interested? Share this story!
Via RT. This piece was reprinted by RINF Alternative News with permission or license.