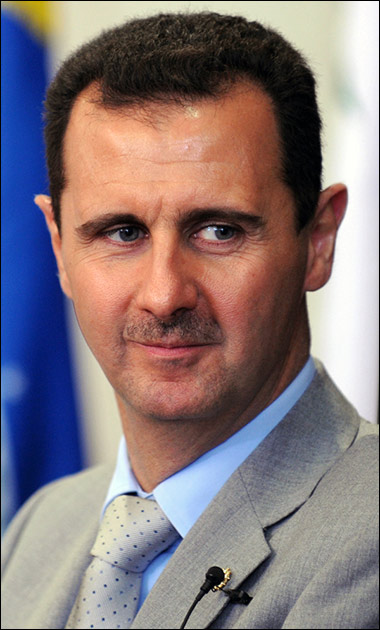 Syrian president says that the recent American wars have only destabilized the Middle East and other parts of the world.
Kit Daniels
Infowars.com
August 27, 2013
In a recent interview with the Russian newspaper Izvestia, Syrian President Bashar al-Assad has stressed that Syria is not a puppet state and that the majority of rebels that his government is fighting are connected to al-Qaeda.
When asked what parts of Syria remain under rebel control, Assad said that his government has been dealing with an "influx of large amounts of terrorists from other countries — estimated in the tens of thousands at the very least."
"The majority of those we are fighting are Takfiris, who adopt the al-Qaeda doctrine," he said.
Assad further emphasized that American politicians should listen to the American people rather than try to install "puppet leaders" across the world to satisfy their own political objectives.
"Today there are many Western politicians, but very few statesmen," he said. "Some of these politicians do not read history or even learn from it, whilst others do not even remember recent events."
"Have these politicians learned any lessons from the past 50 years at least?"
Assad further stated that the U.S. has waged many wars since Vietnam but has failed to achieve its political objectives from any of them.
"Have they not learned that they have gained nothing from these wars but the destruction of the countries they fought, which has had a destabilizing effect on the Middle East and other parts of the world?" He asked. "Have they not comprehended that all of these wars have not made people in the region appreciate them or believe in their policies?"
His statements aren't surprising considering the comprehensive documentation that support his claims, including admissions by U.S. government officials.
Last December, Paul Joseph Watson reported that at least 29 different Syrian rebel groups are pledging allegiance to the Nusra Front, an al-Qaeda affiliate group responsible for killing American troops in Iraq.
"Syrian rebels have been responsible for a plethora of atrocities, from terrorist attacks and massacres, to forcing people to become suicide bombers, to attacks on Christian churches and making children carry out grisly beheadings of unarmed prisoners," Watson wrote.
Former Secretary of State Hillary Clinton has even admitted to BBC that these Syrian rebels on the same side as the U.S. in Syria are terrorist groups.
"We have a very dangerous set of actors in the region, Al-Qaeda, Hamas, and those who are on our terrorist list, to be sure, supporting — claiming to support the opposition in Syria," Clinton said.
President Obama has been openly supporting the Syrian rebels since at least June when he said he would provide military support to them.
This article was posted: Tuesday, August 27, 2013 at 12:54 pm
Tags: domestic news, terrorism, war
---
---
---
---
<!– this is where we need to show the related articles
–>
Republished from: Infowars