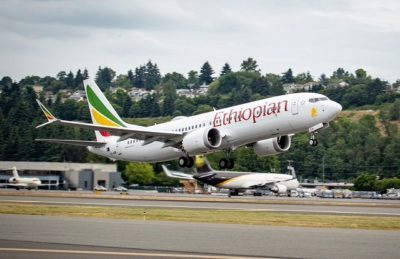 Type the word "manslaughter" into any news search engine and up will come a series of stories of ordinary Americans charged with killing others through criminal negligence or recklessness.
One such case that came up this month involved a Pennsylvania man who plead guilty to manslaughter. The man was accused of texting while driving and as a result killed a 12-year old girl walking on the side of the road. The driver obviously didn't intend to kill the 12-year old girl. But due to his recklessness, he did. And he will now spend time in jail.
If manslaughter charges can be brought against ordinary American citizens, why not against powerful American corporations and their executives?
Two Boeing 737 Max 8 jets have crashed within five months leaving 346 dead. Early evidence of Boeing's wrongdoing in the design of the 737 Max 8 and the company's failure to train pilots to handle its Maneuvering Characteristics Augmentation System (MCAS) warrants a criminal manslaughter prosecution of both the company and the responsible executives.
Boeing CEO Dennis Muilenburg has admitted that "it's apparent that in both flights, the MCAS activated in response to erroneous angle of attack information."
And Boeing kept pilots in the dark about potential failure modes that could result in a taxing mental and physical struggle in the cockpit with just seconds to execute correct decisions and maneuvers.
Pilots complained saying that it is "unconscionable" that Boeing, the…