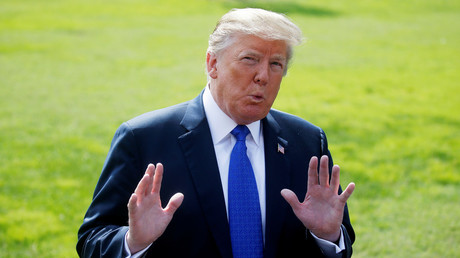 The scandals surrounding Supreme Court Judge nominee Brett Kavanaugh have shown that a "scary time" has come for young men in the US, where they no longer have the privilege of the presumption of innocence, Donald Trump said.
Stressing that US lawmakers are demonstrating double standards in the scandal-ridden confirmation process of his protégé, Trump on Tuesday noted a drastic departure from the core American and basic legal principle of 'innocent until proven guilty'.
"In this realm, you are truly guilty until proven innocent, that's one of the very, very bad things that is taking place right now," Trump said. "It's a very scary time for young men in America, when you can be guilty of something that you may not be guilty of."
Tad Low? Democrats send in another 'shocking' Kavanaugh accusation, GOP having none of it
The presumption of innocence, Trump noted, seems to erode at a moment's notice once somebody brings sexual assault allegations against an individual, as in the case of Judge Kavanaugh, who is being accused of misconduct that allegedly occurred over three decades ago.
Following Kavanaugh's testimony in front of lawmakers last Thursday, conjointly with his accuser Dr. Christine Blasey Ford, the White House ordered a one-week FBI probe into the sexual-assault allegations, which will delay the full Senate's vote on whether to confirm the Supreme Court nominee.
Like this story? Share it with a friend!
Via RT. This piece was reprinted by RINF Alternative News with permission or license.