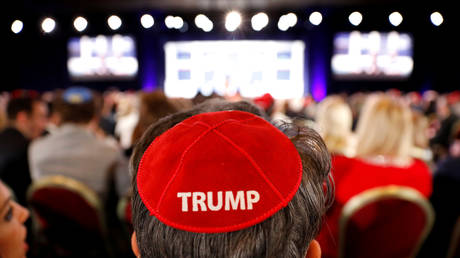 Trump-branded yarmulkes were spotted at the Republican Jewish Coalition in Las Vegas on Saturday, sparking a wave of reaction on Twitter, with some expressing anger at the perceived lack of respect to the religious headpiece.
Many folks here in the ballroom of the Venetian are wearing these Trump yarmulkes, also emblazoned with the logo of the Republican Jewish Coalition.

The president is scheduled to speak here in just over an hour. pic.twitter.com/rsq51dndFv

— Steven Portnoy (@stevenportnoy) April 6, 2019
Make Yarmulke Great Again.

— Walt B (@wb___maine) April 6, 2019
The yarmulkes were reportedly handed out at the event, and both men and women were seen wearing the skullcaps, which Jewish men wear as a sign of respect to God.
READ MORE: Israel could annex parts of West Bank in coming years – Netanyahu
Republican mega-donor and casino magnate Sheldon Adelson was pictured wearing the branded Jewish headpiece at the conference, which was held at one of his hotels, the Venetian. An image of Adelson donning the yarmulke was shared widely on Twitter, where many remarked that he looked like he had similar hair to the president.
The sight of the Trump-emblazoned religious symbols angered many social media users, who felt it was disrespectful to use religious clothing to promote politics.
Are you f*cking kidding me!?:! The Yarmulke is supposed to remind one that there is always something higher than themself. Having "Trump" on his Yarmulke is saying that Trump is above him. Is he that despicable? https://t.co/XRq374lkIG

— ⚡️Progressive Earthling⚡️ (@observantone13) April 7, 2019
This is unholy.

— Elizabeth Crawford (@Lisaprussack) April 6, 2019
Isn't this vaguely blasphemous? Covering your head to honor g_d, while promoting a g-dless pol?

— Catherine Lugg (@CatherineLugg) April 6, 2019
The corporate branding of religious items is peak 2019

— No name (@maximus_HI) April 6, 2019
As I understand it, the yarmulke is worn to honor the Almighty. Is it not therefore wrong to have a name honoring someone other than the Lord on it?? (Not casting stones here – I have fellow Christians who go too far into idolatry of Trump too).

— Donna R (@RennDonna) April 6, 2019
That's sickening.
I thought yarmulkes were religious symbols.
Trump does not have a religious bone in his body but he does seem to be the pied piper of evangelicals and zionists

— donna k blizzard (@donnadevol) April 6, 2019
This isn't the first time the religious headpiece has been turned into political branding. At the 2016 American Israel Public Affairs Committee (AIPAC) convention, red 'Trump 2016' yarmulkes were a big hit. The Ted Cruz, John Kasich, Hillary Clinton, and Bernie Sanders ones didn't sell so well.
Think your friends would be interested? Share this story!
Via RT. This piece was reprinted by RINF Alternative News with permission or license.