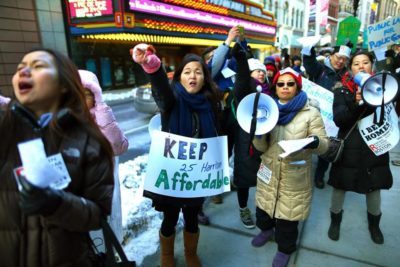 Image via Boston Globe by John Tlumacki
Every election year, Democratic candidates download the latest changes to the Democratic Party platform. They usually make sure to hit refresh on the Wikipedia page for feminism and check for new developments.
It's a miracle, with an unapologetic sexual assaulter in the White House, that reproductive health and the gender pay gap are getting any airtime at all. For statisticians and pundits, support for these issues is the best way to make a back of the envelope calculation of odds.
If you follow political punditry, you'd think Americans were split on Roe v. Wade. The fact is, only a quarter of Americans support rolling it back. For perspective, the anti-vaxxer movement has about as much support. The truth is that most Americans are in favor of social equity and access to basic social services.
As it stands, women still make 70% of what men do. Women are more often bound with being the sole breadwinner of single-parent households. Women often have more debt and lower credit scores than men. Women are also the fastest growing section of the homeless population.
Every potential obstacle for having a roof over your head is in the way for women.
Given that Democratic political candidates want to show their support for social justice, feminist, and lower-income issues, you'd think they would commit to ending the housing crisis. With a ratio of six-to-one between the number of vacant homes (18 million) and homeless…