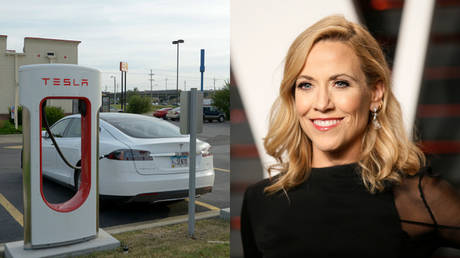 Like Steve McQueen, all that award-winning musician Sheryl Crow needed was a fast machine to escape the parking lot where she was stuck desperately asking Twitter for help because her Tesla's screen wouldn't turn on.
While the US singer-songwriter might like Chevrolet, she apparently owns a Tesla, as she let her 319,000 Twitter followers know Wednesday when she couldn't get the car's dashboard screen to boot. The call for help included the hashtag #stuckinaparkinglot indicating she had been left stranded… hopefully she had no other plans.
It seems that she has someone to blame for the breakdown, asking her audience if she could get a refund on the much hyped electric vehicle. While a couple of people did offer advice on getting the monitor to reset, she was mostly met with a barrage of puns, song references and light-hearted mockery over her predicament.
Others responded with some more practical, if snide, advice… although a few of the "solutions" involved abandoning the $75,000 automobile.
And, as you might expect, the comments also had a number of trolls, ever ready to find the humor in the misfortunes of their fellow man:
Eventually, Tesla CEO Elon Musk himself stepped in, tweeting the pop star helpful instructions which solved the issue and got her back on the day's winding roads.
The singer took the comments in her stride, tweeting thanks to those who offered her long-distance roadside assistance, and even complimenting the "creativity" of the responses.
Elon Musk's premier electric car has been met with a series of high-profile PR nightmares this month. Just a few days ago, celebrity jeweler Ben Baller posted on instagram from inside his Tesla model X which he couldn't seem to get out of. Like Sheryl Crow, he mentioned that a refund might be in order.



Also on rt.com
Chinese hackers make Tesla drive into oncoming traffic (VIDEO)




A day later, a group of Chinese researchers from Keen Labs released a video of them hacking the autopilot of a Tesla Model S and forcing it to drive into oncoming traffic. While Tesla lovers may have promised they would never give up on the vehicle, it seems they may have to try to love again.
Think your friends would be interested? Share this story!
Via RT. This piece was reprinted by RINF Alternative News with permission or license.