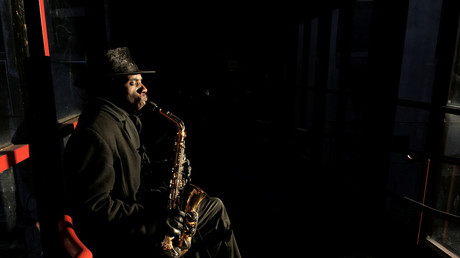 African Americans across the US rise above their struggles in one of the few ways available to them. Speaking to RTD, black citizens tell tales of drugs, gangs, and police violence – and using music to overcome their oppressors.
From the boroughs of New York to LA's rough and tough streets of Compton, RTD's documentary team has met with people from African American communities across the US and from all walks of life… who all have music in common.
In episode three of the Black Lives series, RTD meets a 'gangsta' rapper, a jazz and rock saxophonist, and a gospel pianist among others who use music to process feelings of anger, sorrow, anguish and – above all – hope through melody and wordplay.
The city of Compton has put out some of the greatest rappers of a generation. In reality, the 'boys in the hood' reveal that it's a tough life, with racial tensions ever-bubbling under the surface and the threat of gang violence ready to boil over at any moment.
"People just got a lot of aggression up in here, because you know, the system's always on these people's heads, you know," rapper DJ Mike says.
"They came to the former condition to slavery… life gets you down with a lot of gunshots or mystic going on.
"A lot of things happen, you know, to where these guys like to get it off their chest by writing – as our culture has been Africans – you, know, people from Africa, African Americans, how would you like to call it, black, how do you want to call it. We have always been rhythmic people."
Sharing the rhythm is Saxophonist Seaton Hancock. He's a loud, soulful New Yorker, bringing his music to the streets and the dive bars of his city for anyone who will listen. He tells RTD that his music, African American music, is the heart of the 'real' US – the everyman; not the wealthy one percenters.
"American music is largely African," he says. "When we got carried over here – we carried the music with us. The real heart comes from those who don't have a lot of money. Hear that? Hear that noise? Hear that music? That shouting? That's the heartbeat of our city! Us! Not the politicians, not the rich – we are the heartbeat."
Gospel music provides hope for others – many of the older generations of African Americans turn to religion to keep them hopeful, gospel singer Miriam Johnson tells RTD.
Johnson's faith manifests through song. "When you don't have hope, you know, the song is: 'I need it every hour!' in a sort of prayer, rising from lungs to the high heavens. Gospel music gives you hope and gives you peace, and it gives you joy."
The new documentary, Black Lives: Hope, premieres 21 November on RT & RTD.
Like this story? Share it with a friend!
Via RT. This piece was reprinted by RINF Alternative News with permission or license.