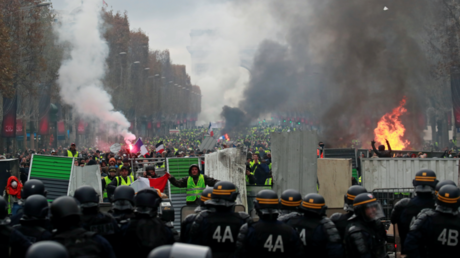 Donald Trump has been described as a narcissist by some, and he isn't doing himself any favors by making everything about him and the US. He's even found a way to make French demonstrations over rising fuel prices about America.
The US president took to Twitter on Sunday to address protests in France over rising fuel costs, which turned violent in Paris and led to tear gas and water cannon being deployed by police. 
"The large and violent French protests don't take into account how badly the United States has been treated on Trade by the European Union or on fair and reasonable payments for our GREAT military protection. Both of these topics must be remedied soon," he tweeted. 
He then went on to toot his own horn for falling oil prices. "Thank you, President T," he wrote.
The internet, unsurprisingly, had a few things to say about his most recent tweets.
Some were left completely blown away as to why Trump was dragging the US and himself into a French domestic matter.
One person attempted to offer a bit of logic as to why Trump was getting involved.
And a French person took to Twitter to point out that while citizens are angry at President Emmanuel Macron, everyone in France seems to at least agree on one thing: "At least we don't have Trump."
Trump's tweets come as his relationship with Macron remains at a low point, after Macron announced his support for a European army to protect the continent against the likes of China, Russia, and "even the United States of America."
The US president responded by slamming Macron and his "low approval rating" on Twitter, and went on to say that Germany (whose chancellor, Angela Merkel, also supports the idea of a European army) was France's problem during both World Wars – not China, Russia, or America.
The Sunday tweets come just days after Trump was asked a common Thanksgiving question by a reporter: "What are you thankful for?" His answer was, well, himself.
"I've made a tremendous difference in the country," he confidently told reporters. 
Like this story? Share it with a friend!
Via RT. This piece was reprinted by RINF Alternative News with permission or license.