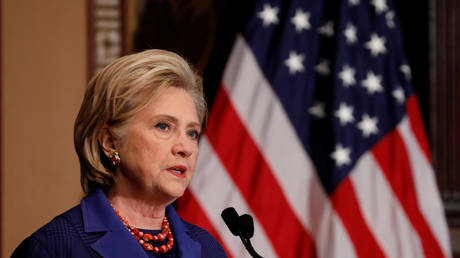 The NXIVM sex cult is facing allegations that it illegally bundled campaign donations to gain political favor with an unnamed US presidential election candidate and reports suggest that the politician is Hillary Clinton.
United States Attorney for the Eastern District of New York Richard Donoghue asked a federal judge to introduce evidence showing that the defendants in the sex cult case had an "illegal scheme to exceed contribution limits to a presidential primary campaign." 
The court documents claim that witness testimony and documentary evidence will show that at least 14 NXIVM members, including five defendants, made the maximum campaign donation to a candidate, with the "understanding that they would be reimbursed by [Claire] Bronfman or Nancy Salzman," who were involved in the cult. Salzman is the co-founder along with Keith Raniere.



Also on rt.com
NXIVM sex cult leader Keith Raniere faces child pornography charges in new indictment




The documents allege that an unnamed political operative, who has pled guilty to a New York state bribery charge about campaign contributions, suggested they bundle the contributions and present them to the candidate at a fundraising event attended by Salzman.
The US attorney claims a witness who was at the event will testify the contributions were made in the hope of getting political influence that included targeting Raniere's enemies. He said that evidence of similar contributions to other elected officials will be introduced. Donoghue's request was made last month but has yet to receive a response.
Clinton allegations
A former NXIVM publicist who is now a whistleblower, Frank Parlato, told Big League Politics that the political candidate was Hillary Clinton.



Also on rt.com
From sex cults to cancer cookbooks: A profile of the most high-profile lifestyle scams




"I was there, and I knew that the contributions were made by more than a dozen NXIVM members to Hillary Clinton's presidential campaign," he said.
A 2007 New York Post article reports NXIVM members donated $29,900 to Clinton's presidential bid. On March 14 and April 13 of that year, over a dozen contributions were made to Clinton from NXIVM, many of which were from first-time donors giving the $2,300 maximum allowed.
One of the contributions came from Bronfman, who was charged in 2018 with money laundering and identity theft in connection with NXIVM activities. Salzman and Bronfman were members of Bill Clinton's Clinton Global Initiative.



Also on rt.com
Hillary Clinton shows signature style as she chuckles over Assange's arrest




Bundling campaign donations is not illegal, but it can be used to circumvent campaign finance laws set out to prevent individuals from having undue influence over a candidate by donating huge amounts of money. If a bundler gathers individual donations from a group of people and presents them to a campaign, it can be seen as a way to show support and gain influence over a grateful candidate. The Center for Public Integrity reported that Obama rewarded about 200 bundlers with jobs and appointments after he won the election.
When bundlers encourage people to donate to a candidate with the promise of reimbursing them later, that is illegal, and that is what the court documents allege the NXIVM donors were promised.
Think your friends would be interested? Share this story!
Via RT. This piece was reprinted by RINF Alternative News with permission or license.