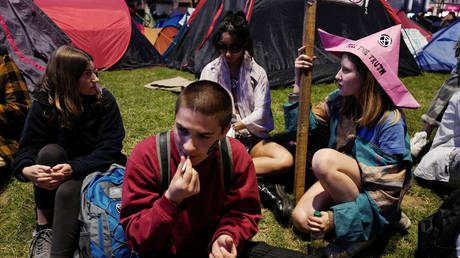 London's jails are at capacity and officers are worked to the bone as police tried to maintain law and order at a range of different protests across the city, making hundreds of arrests.
Outside Westminster Palace, coppers grappled with pro-Brexit protesters, still incensed that Theresa May's government has made no discernible progress on exiting the European Union. Clashes were reported, as police wrestled one yellow vest-clad protester to the ground.



Also on rt.com
#ExtinctionRebellion shuts down London's busiest streets with climate change protest (VIDEOS)




Far larger than the now-commonplace Brexit protest were the six-day, citywide 'Extinction Rebellion' climate demonstrations. Occupying intersections, holding yoga classes on bridges and forming impromptu drum circles, these demonstrators demanded that the British government "tell the truth about climate change" and cut carbon emissions to zero by 2025.
Demonstrations have taken place in major cities worldwide for the last week, with three London protesters remanded in custody for holding up a Docklands Light Rail train on Thursday, and further rail disruptions carried out in Australia and Germany.
Good vibes or not, the British government have tired of the gathering. More than 750 people have been arrested and 28 charged. Police Commissioner Cressida Dick told the BBC the protests have caused "miserable disruption."
"Every day we have had over 1,000 officers – and now over 1,500 officers – working to police these protests," she said. The Met called in an additional 200 officers to clear the streets, and Home Secretary Sajid Javid urged police to use "the full force of the law."
On Saturday, that meant shooing the "eco anarchists" to a sanctioned protest area at Marble Arch, and arresting those who didn't comply. At one stage, officers used an angle grinder to cut through a metal pipe connecting two protesters to each other.
BREAKING: Hanna, seven months pregnant, was the last person to be arrested at Oxford Circus today.

She said: "The energy is here, the time is right. This is our last chance and I'm doing this for my kids."

How far would you go to protect your child?#InternationalRebellionpic.twitter.com/K2GqcAE96u

— Extinction Rebellion 🐝⌛️🦋 (@ExtinctionR) April 20, 2019
In Hyde Park, an altogether different form of demonstration was occurring. Thousands of pot smokers and activists turned up to skin up and chill out for 4/20, an annual event that's part 'legalize it' protest and part old-fashioned smoke-up.
This last protestor on #OxfordCircus is having a circular saw taken to the mental pipe that connects his to another protestor. It's easy to mock @ExtinctionR until you witness the personal sacrifice they are making to push for an adequate response to Climate Collapse. pic.twitter.com/3GPgXTuUV9

— Jolyon Rubinstein (@JolyonRubs) April 20, 2019
The April 20 event, named after the American calendar date 4/20, was a fairly sedate affair, with a mist of pot smoke hanging over the park. However, police were called to the scene of a stabbing in the park, which took place minutes after the ceremonial blaze-up at 4.20 pm.
Think your friends would be interested? Share this story!
Via RT. This piece was reprinted by RINF Alternative News with permission or license.