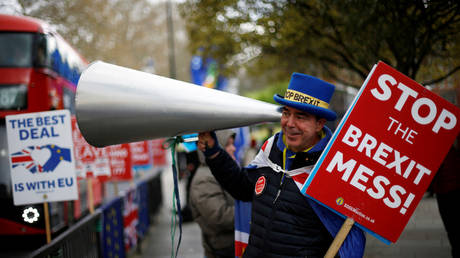 Worried Brits took to Twitter on Wednesday to express disgust at raucous scenes in the House of Commons as"out-of-touch"MPs seemed to be laughing their way through the Brexit drama, during a day of indicative votes.
TV personality Piers Morgan was among those who noted that parliament was "rocking with laughter" as lawmakers "drag Britain ever deeper into a sewer of chaos & global ridicule."
The House of Commons often erupts into bouts of raucous laughter as politicians mock and insult each other, but people are finding it all a little less funny given the seriousness of what is at stake when it comes to Brexit.
MPs are grinning and joking "while the citizens of this country are denied democracy," one angry Twitter user said. The laughter "shows how out of touch they are," another said, while regular people are struggling "to keep afloat financially, feed and clothe their kids."
"Let them laugh," one tweeter said, because they will all be "out of a job" after the next election.
"Am sickened that MPs are laughing & joking in Westminster," at such a "serious time," said another.
One slammed the "liars and bullies" laughing and cheering while ordinary people sit at home and watch the chaos play out.
"Laughing and joking while the country burns."
Look like they're "all on a jolly boys outing!"
Wednesday was the third day of parliamentarians taking control of the House of Commons, during which they passed Labour MP Yvette Cooper's bill on extending Article 50 and avoiding a no-deal Brexit. Prime Minister Theresa May has already announced she will pursue the Article which extends Britain's exit from the EU, but Cooper's bill seeks to allow MPs a say over just how long that delay is.



Also on rt.com
General election is best solution to Brexit chaos – Galloway




One of the outbursts of laughter came about as Hilary Benn's motion for another MP take-over day next Monday resulted in a rare Commons tie – 310 Ayes to 310 Noes. Speaker John Bercow cast the deciding vote to defeat the motion, siding with the government and saying it was his responsibility not to create a majority "that isn't there".
The result means British MPs will not have control of their parliament on Monday. The politicians voted on March 25 to seize control of Westminster from Prime Minister Theresa May, to hold a series of indicative votes.
Think your friends would be interested? Share this story!
Via RT. This piece was reprinted by RINF Alternative News with permission or license.