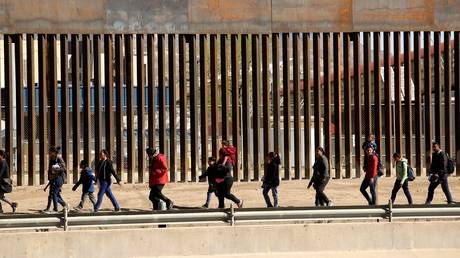 Determined to stop President Donald Trump's efforts to build a wall along the US-Mexico border, House Democrats voted to challenge his national emergency declaration in court.
Speaker Nancy Pelosi (D-California) announced on Thursday that the House leadership voted to greenlight a lawsuit against Trump's emergency declaration, calling it a usurpation of powers Congress was granted by the US Constitution.
"The House will once again defend our Democracy and our Constitution, this time in the courts.  No one is above the law or the Constitution, not even the president," Pelosi said.
BREAKING: House leaders voted 3-2 to file a lawsuit against the #Trump administration blocking President Trump's national #emergency to build a #border#wall, arguing that he is violating the Appropriations Clause of the U.S. Constitution by circumventing #Congress.

— Andy – ☮️ – (@DrPresage) April 4, 2019
House Republican leaders voted against the lawsuit, but were overruled by Democrats, who have the majority in that chamber of Congress.
Sixteen Democrat-majority states have already sued Trump over the emergency declaration, filing their challenge before a federal judge in California.



Also on rt.com
Trump declares national emergency over border crisis




Trump invoked national emergency powers in February, having tried to get wall funding from Congress without success. The 35-day partial government shutdown that resulted from the standoff with Democrats was the longest in US history.
Pelosi, who took over as House Speaker in January, vowed to block any money for the wall, ever, and gloated when the compromise appropriations bill that staved off the second shutdown gave the administration even less funding for border protection than the December proposal Trump had rejected.



Also on rt.com
Art of the deal? Trump ups Mexico grace period for ending illegal immigration from a week to a YEAR




With Democrats determined to stop the border wall and debate any sort of immigration restrictions proposed by Trump, the flow of migrants from Mexico and Central America – which had slowed down to a trickle in the early days of the Trump presidency – has turned into a torrent, with Homeland Security and Border Patrol reporting they are "overwhelmed."
Trump has already stopped all aid to Guatemala, Honduras and El Salvador due to the migrant crisis, and is now threatening to close the southern border entirely unless Mexico does something to stop the "caravans" of migrants coming through to the US.
Like this story? Share it with a friend!
Via RT. This piece was reprinted by RINF Alternative News with permission or license.