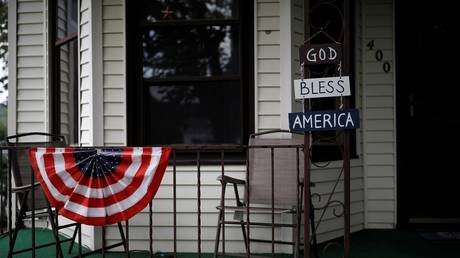 Once described as "imperishable emblem of America," Kate Smith has been blacklisted by two major sports teams and her recording of 'God Bless America' pulled, on grounds that two of her other 1930s songs were racist and offensive.
On Friday, the Philadelphia Flyers hockey team covered up a statue of Smith outside their arena with black tarp, issuing a statement that "several songs performed by Kate Smith contain offensive lyrics that do not reflect our values as an organization." The Flyers are also removing Smith's recording of 'God Bless America' from their library, the team said.
On Thursday, as most of America focused on the Mueller report, the New York Yankees baseball team announced they were dropping Smith's rendition of 'God Bless America', after receiving complaints about Smith's "racist" recordings in the 1930s.
"The Yankees take social, racial and cultural insensitivities very seriously. And while no final conclusions have been made, we are erring on the side of sensitivity," a Yankees spokesman told the New York Daily News.
The two songs in question are 'Pickaninny Heaven' (from a 1933 film) and 'That's Why Darkies Were Born' (1931). While there are some "conflicting notions" regarding the latter song, which was considered satire at the time, wrote Stefan Bondy of the the Daily News, "her shocking lyrics from 1939 [sic] are neither humorous nor ironic in 2019."
"The Yankees have suspended the use of Kate Smith's recording of "God Bless America" during the seventh-inning stretch while they investigate an allegation of racism against the singer."

Who's next, Paul Robeson?https://t.co/FermeiG6Lf

— Scott Greenfield (@ScottGreenfield) April 19, 2019
Irving Berlin wrote 'God Bless America' (1938) especially for Smith, and her 1939 recording was a staple of Yankees games in the years following the 9/11 terrorist attacks. The Flyers played it before their games for decades.
'That's Why Darkies Were Born' was written by Ray Henderson and Lew Brown, and was considered progressive social satire of racism at the time. It was also performed by African-American entertainer and social activist Paul Robeson (of 'Ol' Man River' fame), among others.
"Miss Smith is America," President Franklin Delano Roosevelt told the visiting British royals in 1939, according to her 1986 New York Times obituary. In 1996, a Times music critic described Smith as inseparable from "[Irving] Berlin's great anthem – singer and song joined together to create an imperishable emblem of America." Ronald Reagan honored her with the Presidential Medal of Freedom in 1982.
Think your friends would be interested? Share this story!
Via RT. This piece was reprinted by RINF Alternative News with permission or license.