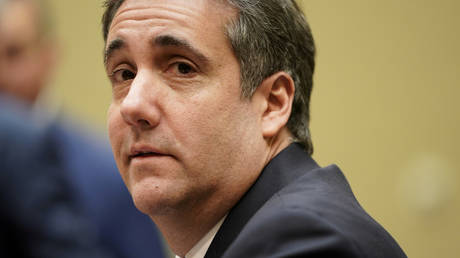 Former Trump lawyer Michael Cohen has offered lawmakers the data from a hard drive he "recently found," suggesting it might help with the many probes into the president's activities – and keep Cohen out of jail a little longer.
"Mr. Cohen has located several documents that we believe have significant value to the various congressional oversight and investigation committees," lawyers for the former presidential fixer, Lanny Davis, Michael Monico and Carly Chocron, wrote in a letter to lawmakers, offering them a peek at those documents in return for keeping their client a free man.



Also on rt.com
Mueller had search warrant for Michael Cohen's emails a year before FBI office raid




Cohen "recently" unearthed the hard drive, which contains a "substantial" trove of files – over 14 million emails, voice recordings, images and attachments – but in return for handing the juicy bits over to investigators, he is seeking more time "to review the files" before he has to report to jail to serve his three-year term – as well as a reduction of the sentence itself.
The letter from his lawyers asks members of Congress to write on his behalf to the Southern District of New York, asking that he be allowed to pick through the data himself – as well as generic letters "outlining his cooperation," which could be used to request further sentencing reductions.
While Cohen and his lawyers have made quite a show of their "cooperation" with special counsel Robert Mueller, that cooperation did not produce any further indictments in the Trump inner circle, and Cohen's "bombshell" congressional testimony in February proved to be largely a wash, despite his earlier claims that he had proof Trump instructed him to commit crimes, evidence Trump was a racist, and even proof of the Democrats' holy grail: Russian collusion.
Since Cohen was convicted last year of lying to Congress – among other charges, including bank and tax fraud – it's not immediately clear why Congress should trust him to pick through the provident hard drive himself. His explanation the last time he spoke to Congress – that he had lied to protect Trump, "but was not a liar" – was met with derision by some on the committee. 



Also on rt.com
Post-Russiagate Dems pin hopes on Trump tax returns, stubbornly avoid real issues as 2020 looms




While the Mueller probe has concluded, more than a dozen other investigations into the Trump administration remain open, and the House Ways and Means Committee requested the last six years of the president's tax returns from the Internal Revenue Service earlier this week.
Like this story? Share it with a friend!
Via RT. This piece was reprinted by RINF Alternative News with permission or license.