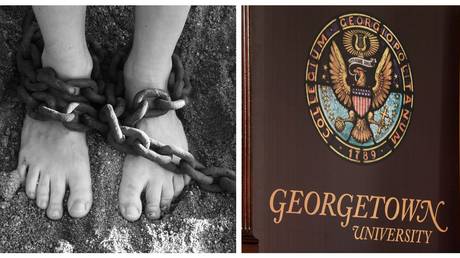 Students at Georgetown University voted by a 2 to 1 landslide to increase their tuition in order to raise funds for reparations to descendants of slaves who were sold to pay off the university founders' debts back in 1838.
While the tuition increase – $27.20 per student per semester – is dwarfed by the school's $53,520-a-year price tag, it would be mandatory, making Georgetown the first school in the country to effectively tax its students in a bid to right its own historic wrongs. The measure must be approved by the university's board of directors to take effect. If approved, the fee will be collected starting in 2020.



Also on rt.com
Reparations for slavery in 2020: Justice at last or attention seeking by Democrats? (DEBATE)




Almost exactly two-thirds – 66.08 percent – of Georgetown students approved the measure, with turnout among the highest ever reported for a school election. The student government passed it by a 20-4 landslide in a February vote.
Not all students were pleased with the result. Student senator Sam Dubke, who led the movement against the proposition, told the College Fix he was smeared as a racist – both in person and on social media – and that posters advising students to vote "no" were destroyed. Other opponents of the measure decried the policy's disproportionate burden on low-income students and its compulsory nature and questioned how the funds would actually be used.
The $27.20 figure was chosen "in honor of the 272 people sold by Georgetown," according to the College Fix, which obtained a copy of the resolution. Proceeds would be earmarked for "Charitable purposes directly benefiting the descendants of [the 272 sold slaves] and other persons once enslaved by the Maryland Jesuits – with special consideration given to causes and proposals directly benefiting those descendants still residing in proud and underprivileged communities." A special Board of Trustees would be appointed to disburse the funds.



Also on rt.com
PC culture targeting art, literature & theatre puts West in fight against history




Four descendants of the "GU272" – as the measure refers to them – already attend the university under an admissions policy that considers them "legacy students," adopted in 2016 to "offer an admissions edge to descendants of slaves as part of a comprehensive atonement" for Georgetown's slavery-tainted past. The university made a formal apology for the sale in 2017 and renamed two buildings in honor of the people sold.
"The Jesuits sold my family and 40 other families so you could be here," Melisande Short-Colomb, one of those students, told a student town hall meeting last week during a discussion of the measure, though she admitted "no one in this room was here in 1838 when this happened."
The sophomore praised the effort to "make amends," adding, "We have a chance today to make a difference, so I'm going to pay my $54."  It's unclear how much of that $54 would end up back in her pocket.
If you like this story, share it with a friend!
Via RT. This piece was reprinted by RINF Alternative News with permission or license.