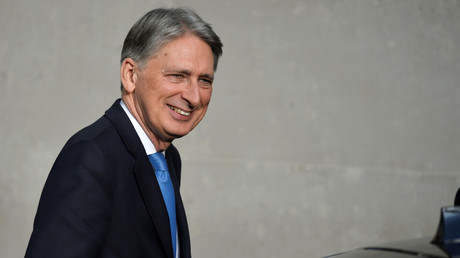 As the Tory party struggles to put out the fires from multiple public gaffes ahead of this week's budget, Chancellor Philip Hammond has claimed "there are no unemployed people in the UK."
In a discussion on BBC's Andrew Marr Show on Sunday, Hammond tried to draw comparisons with the IT revolution of the 80s and 90s when discussing the potential impact of driverless cars on British employment in the future.
"It's a simple choice: either we embrace change or we try to hide from change and we allow ourselves to slip behind," he said. "I remember 20 years ago we were worried about what would happen to a million shorthand typists in Britain as the personal computer took over. Nobody has a shorthand typist these days."
"Where are all these unemployed people? There are no unemployed people. We have created 3.5 million jobs since 2010. This economy has become a jobs factory."
According to official statistics, however, there are approximately 1.42 million unemployed people in Britain, with many more struggling to work enough hours to support themselves.
Hammond faces a difficult budget on Wednesday as economic forecasts for a post-Brexit UK take a darker and darker turn. The Chancellor is also under fire from within his own party, much the same as Prime Minister Theresa May, as many Brexiteers believe he's not fully committed to leaving the EU.
READ MORE: Tough times for Theresa: PM faces horror week as Government 'smells of decline'
Earlier in the week, Nick Timothy, May's former chief of staff, described Hammond as politically tone deaf and bereft of any desire to change people's lives for the better, reports The Times. Hammond addressed these comments by saying, "Nobody would be in politics if they didn't have a desire to change people's lives for the better," as cited by The Guardian.
Hammond later told ITV's Peston On Sunday: "Of course I didn't mean [there is no unemployment]. There's 1.4 million unemployed people in this country and that's 1.4 million too many. But we have record low levels of unemployment. It hasn't been this low since the 1970s."
Reaction from his counterparts in the Labour Party was understandably one of outrage and derision.
Did @PhilipHammondUK really just say that there are no unemployed people? Yes, he did. If ever there was a symbol of a more out of touch Government, that is surely it. 1.42 million written off by the Chancellor & that doesn't even include those hidden by official statistics #Marrpic.twitter.com/8eKe93chnS

— Laura Pidcock MP (@LauraPidcockMP) November 19, 2017
Quick reminder for the Chancellor – there are 1.5m unemployed people in the country (2,910 in Tottenham) plus millions more who are underemployed, earning less than the living wage, on zero hours contracts, in insecure work, and on the end of 7 years of falling real wages. #marr

— David Lammy (@DavidLammy) November 19, 2017
Via RT. This piece was reprinted by RINF Alternative News with permission or license.