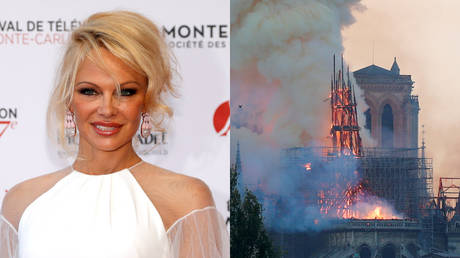 While most were happy that wealthy donors gave $1 billion to rebuild Notre Dame, actress Pamela Anderson had a different take, claiming the "one percent" had their own interests at heart and that the Church is rich enough already.
The model and former Baywatch actress made her latest hard-hitting political contribution in a tweet. This time, Anderson decided to take on the Catholic Church and its wealthy patrons for allegedly over-prioritizing the reconstruction of the world-famous Notre Dame Cathedral, which partially burned down earlier in the week.
She criticized those donating to the cause, saying that their (presumably) untaxed donations are motivated more by a desire for public praise than a love of architecture. She also critically highlighted the fact that such a large sum had been quickly drummed up to rebuild the famous cathedral, but similar amounts were hard to find when it comes to helping the less fortunate.
Her controversial comments incited a variety of reactions, some praising her for calling out the public's reliance on the whims of the wealthy. Others agreed that the Catholic Church is not exactly hurting for cash to do the repair work.
At the same time, Anderson got her fair share of criticism. Some accused her of not understand French history, culture and law, with many hitting on the fact that the French state, and not the Church, is the cathedral's proprietor.
Others considered her comments to hypocritical, given what they see as her own less than socially conscious financial decisions.
Anderson has been quite active in commenting on a variety of hot-button political issues. Last week, she attacked the UK, calling it "America's bitch" over the arrest of WikiLeaks co-founder Julian Assange.
Like this story? Share it with a friend!
Via RT. This piece was reprinted by RINF Alternative News with permission or license.