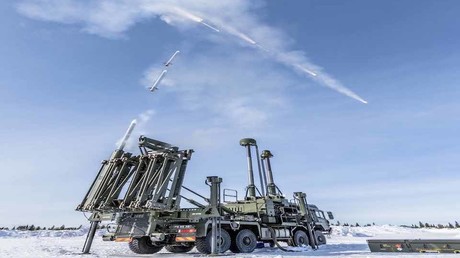 Amid scrutiny of Britain's arms sales to Israel, the government says it has just successfully tested a new air-defense missile system which uses Israeli technology.
It's a sign of the growing two-way relationship in defense just after it was reported that sales by British arms companies to Israel have hit a new peak amid international condemnation of the Israeli army's often brutal tactics.
Since the 2014 Israel-Gaza conflict, Britain has approved £320 million ($424 million) worth of arms to Israel, UK government data shows.
The successful test of the Land Ceptor system took place at a Swedish test-fire range near the Baltic Sea. The system will be paired with an advanced radar developed by Swedish firm Saab and a £78 million ($103 million) electronics suite provided by Israel's Rafael to form the James Bondesque-sounding Sky Sabre air-defense system.
Much of the technology being used can already found in the Israeli Defense Forces' Iron Dome missile shield.
Specializing in missile systems and defense electronics, Rafael has also worked on the David's Sling missile-defense system, as well as air-to-air missiles, anti-tank missiles, and precision guided missiles.
The company has continued to push exports of its wares to European governments, after four years of continued growth in the market.
In addition to working on the UK's Sky Sabre program, it is also working with US contractor Raytheon to export the David's Sling to Poland in a multi-billion-dollar deal.
READ MORE: UK condemns Gaza killings while British arms sales to Israel hit record levels (VIDEO)
The IDF's own Iron Dome was in action recently to intercept a round of mortar attacks launched against Israel from the Gaza Strip.
The barrage of at least 28 mortars is the largest attack of its kind from Gaza in recent years, and comes just weeks after 60 Palestinians were killed in one day by IDF snipers during protests at its security fence.
Under the terms of the Rafael contract, UK firm Babcock takes on 40 percent of the work, while the remaining 60 percent will take place in Israel.
Think your friends would be interested? Share this story!
Via RT. This piece was reprinted by RINF Alternative News with permission or license.