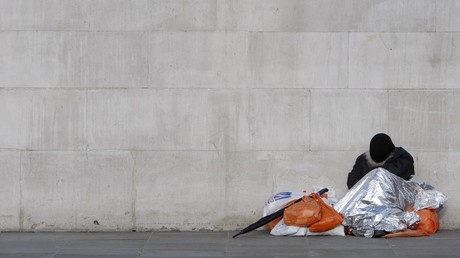 Britain is on track for the longest period of falling living standards since records began, a think tank has warned. Its analysis shows Chancellor Hammond's budget will drive up inequality and see families suffer their biggest squeeze since the 1950s.
The Resolution Foundation, a think tank which focuses on how to bolster living standards, said the stark downgrade of economic growth revealed by the Chancellor on Wednesday means household disposable income is now set to fall until 2020. It also found the poorest third are set for an average loss of £715 per year over the coming five years, while the richest third stand to gain £185 on average.
"Following years of incremental changes, yesterday the Office for Budget Responsibility (OBR) handed down the mother of all economic downgrades pushing up borrowing for the Treasury," director of the Foundation Torsten Bell said. "While Philip Hammond chose to take a relaxed approach to additional borrowing, families are unlikely to do so when it comes to the deeply troubling outlook for their living standards that the Budget numbers set out.
"Families are now projected to be in the early stages of the longest period of continuous falls in disposable incomes in over 60 years – longer even than that following the financial crisis," he said, according to the Independent.
And what about the JAMs? Despite welcome moves on Universal Credit, the vast majority of the £14bn welfare cuts remain in place – with big consequence for low and middle income households pic.twitter.com/lGqg6KZSX7

— ResolutionFoundation (@resfoundation) November 23, 2017
The current income squeeze is set to be longer, albeit shallower, than the post-crash squeeze, with real household disposable incomes set to fall for an unprecedented 19 successive quarters between 2015 and 2019. The Chancellor's small changes to improve universal credit, tax and benefit policies announced since 2015 will push living standards down and increase inequality, the foundation explained in its post-budget report 'Freshly Squeezed.'
The Foundation also said the UK economy will be £42 billion smaller in 2022 than it was expected to be in March, after official data indicated dismal growth forecasts in coming years. It claimed the Chancellor "had all but abandoned" his aim of achieving a budget surplus by the middle of the next decade because of extra spending and borrowing.
By responding to a weaker economic outlook by borrowing more, the Chancellor's Manifesto aim of an absolute surplus looks to set to be pushed back to 2030 – a 20-year deficit reduction programme pic.twitter.com/6gzd8zk9k1

— ResolutionFoundation (@resfoundation) November 23, 2017
It also took a dim view of the Chancellor's plan to offer a stamp duty cut to young people trying to get on the housing ladder. The OBR said on Wednesday while Hammond argued the scheme could help one million people save on average more than a thousand pounds when buying a home, that number would actually be closer to 3,500. The plan may also have an upwards pressure on house prices, meaning the real beneficiaries of the policy would be existing homeowners, the OBR added.
But will the stamp duty exemption boost home ownership? It would reduce the estimated time required to save for a deposit among young (28-30 year) households by six months – to 18.5 years pic.twitter.com/xtN9BkMbPi

— ResolutionFoundation (@resfoundation) November 23, 2017
The Resolution Foundation branded the move, which was met with loud cheers in the Commons, "a very poor way to boost homeownership." Its analysis shows the chancellor could have used the £3 billion stamp duty cut to build 40,000 social rented properties or about 140,000 homes through the government's own Housing Infrastructure Fund.
Via RT. This piece was reprinted by RINF Alternative News with permission or license.