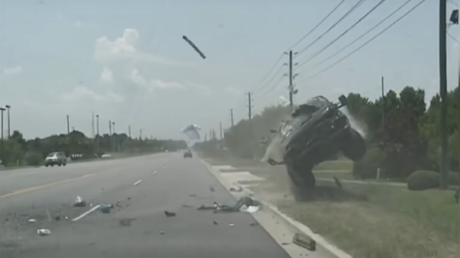 South Carolina police have released dashcam footage showing a 22-year-old female desperately trying to escape cops after a traffic violation. She rams numerous police vehicles during a high-octane chase, before flipping her car.
Florence County Sheriff's Office said that, earlier this month, officers noticed 22-year-old Brittany Nicole Jeffords commit a traffic violation on North Cashua Street in Effingham, South Carolina. After initially refusing to stop, Jeffords did briefly yield to police demands in a nearby parking lot, where the cops used the opportunity to arrest her male passenger in the vehicle.
As the man was being booked, the female driver slammed on the gas, hastily trying to break away from the authorities. A high-speed chase, that would make a Hollywood blockbuster crew proud, ensued, dash cam footage showed.
The suspect was desperately trying to ditch the oncoming cruisers as the police were trying to bring the renegade SUV to a halt. After ramming through about four police units, Jeffords lost control of the car and flipped over. The force of the crash was so strong that she was ejected from the car and fell motionless on the road. After being treated on the spot Jeffords was transported to a local hospital.
READ MORE: 'Good police work'? Five dead after 'smuggling event' sets cops on high-speed car chase in Texas
Earlier this week Jeffords appeared in court where she was charged with two counts of failure to appear, driving under suspension and failure to stop for a blue light over the incident.
If you like this story, share it with a friend!
Via RT. This piece was reprinted by RINF Alternative News with permission or license.