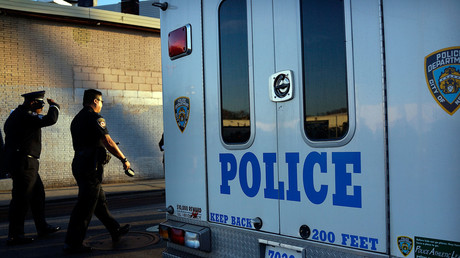 A woman who accused a nine-year-old black boy of groping her has been caught out by CCTV footage showing this not to be the case.
The woman, Teresa Klein, caused anger earlier this week after she called 911 to report an alleged sexual assault by a nine year old. The incident is the latest in a long stream of reports of white Americans calling the police on black people who are going about their business.
Theresa claimed the boy "grabbed her ass" inside a deli in Brooklyn this week.
Facebook video taken in the immediate aftermath of the incident shows the woman calling the police outside the store. The boy, his mother, and another young child are seen standing nearby. The children are crying.
"The son grabbed my ass and [the mother] decided to yell at me," Klein says in the video. Police arrived at the store about 20 minutes later but did not file a report.  
Local reporter Andrew Ramos shared footage taken of the store's CCTV which shows the child did not grab the woman's behind, but instead brushed against her with his schoolbag as he passed her in the aisle.
The New York Times reports Klein was confronted by neighbors when she returned to the store on Friday. A reporter at the scene urged her to watch the security footage of the incident. After viewing the footage, Klein made an apology to the boy through the reporters present.
"Young man, I don't know your name but I'm sorry." she said.
Has this lady ever been in a subway or bus during rush hour?
Just in case she hasn't, here's a list of things that will definitely touch you but are not assault:
Messenger bags 💼
Grocery bags
backpacks 🎒
Luggage
Strollers
Boxes & other packages 📦
Bikes 🚲
Oversized coats 🧥

— HT 💬 (@HenryTalks) October 13, 2018
A NINE year old? This woman needs to be named and shamed! Relentlessly

— Tea Leaves (@kay41981) October 13, 2018
THIS is the kind of BS that the "me too" movement & " believe all women" results in. When claims PROVE TO BE FALSE, the accuser should be arrested & prosecuted!!!

— RPDelre (@rpgoetting) October 13, 2018
I can't get the story of the 9 yr old boy at the Brooklyn bodega out of my head. Reminds me too much of Emmett Till.

He deserves so much more than this.

I'd like to raise him $10,000 for his education.

Whatever you give is a blessing.

PLEASE SUPPORT!https://t.co/BpmhB5p9pO

— Michael Skolnik (@MichaelSkolnik) October 13, 2018
Thank you for posting this! Until now, I was supremely unaware that a backpack accidentally brushing against one's bum was sexual assault! If that's the case, every time I go to my niece's elementary school, I'm assaulted hundreds of times when the bell rings! lol

— MDOT Mafia (@mdotmafia) October 12, 2018
Like this story? Share it with a friend!
Via RT. This piece was reprinted by RINF Alternative News with permission or license.