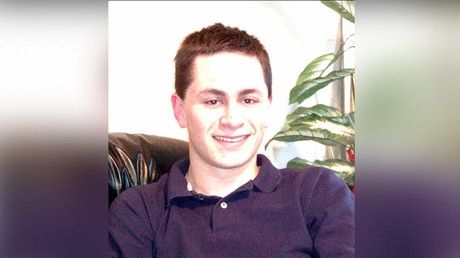 The man who police say is responsible for a series of package bombings which terrorized Austin, Texas, in recent weeks died after blowing himself up on Wednesday. Here's everything we know so far about Mark Anthony Conditt.
READ MORE: Explosion injures 2 in Austin, Texas, where a serial bomber is still at large
At least two people were killed and several injured in a series of bombings that have rocked Austin since March 2. Austin Police Department Chief Brian Manley said they believe Conditt built all of the bombs involved.
The suspect's death
Austin police issued an arrest warrant for 23-year-old Conditt on Tuesday night. They publicly identified the Texan as the suspected bomber on Wednesday afternoon, shortly after he died in a reportedly self-inflicted blast in the town of Round Rock, following a car chase with police.
The suspect ran into a ditch on the side of the road and a bomb went off inside his car as SWAT officers approached the vehicle. Conditt was killed in the blast while one officer sustained minor injuries, the Associated Press reports.
The police chief added that they are concerned that Conditt may have planted other bombs around Austin before he died. "We don't know where this suspect has spent his last 24 hours and therefore we still have to remain vigilant to ensure that no other packages have been left throughout the community," he said.
FedEx evidence
Conditt allegedly used "exotic batteries" from Asia to make the bombs. This enabled police to quickly link the explosions to the same attacker, NBC News reports.
The federal criminal complaint charged Conditt with one count of Unlawful Possession and Transfer of a Destructive Device. "Hundreds of federal, state and local law enforcement officers worked together to identify and locate Conditt,"  United States Attorney John F. Bash said in a statement.
CBS Austin published images of an individual who is believed to be Conditt, possibly wearing a wig and gloves, inside a FedEx store. The delivery company reportedly provided authorities with "extensive evidence."
The Mayor of Pflugerville Victor Gonzales told the Associated Press that Conditt lived in the town. Large parts of the Austin suburb were evacuated on Wednesday as law enforcement agencies carried out investigations.
Pflugerville City Hall is closed. Residents have been evacuated from downtown Pflugerville west of Railroad and North of Pecan. Please stay clear of the area as agencies continue to work.

— Pflugerville, TX (@PflugervilleTX) March 21, 2018
The alleged bomber's neighbor Jeff Reeb told AP he had lived next to Conditt's parents for 17 years. He said Conditt "always seemed like he was smart" and "polite." Conditt lived a short distance away elsewhere in Pflugerville but he regularly visited his parents at their home.
Motive
Investigators have yet to ascribe a motive to Conditt's alleged attacks. The fact that two black men were killed in the bombings has led some observers to note that the attacks could be race-related but Manley told the Associated Press that police were not "making the connection to a hate crime."
READ MORE: Austin bomber suspect dead after blowing himself up – police
The 23 year old was homeschooled before attending Austin Community college for two years but failing to graduate. He is reportedly the author of a political blog which said gay marriage should be illegal and called for the abolition of sex-offender registries.
Conditt's family had "no idea of the darkness that Mark must have been in," according to a statement his aunt read on CNN. "We are devastated and broken at the news that our family could be involved in such an awful way. We had no idea of the darkness that Mark must have been in. Our family is a normal family in every way," she added.
Like this story? Share it with a friend!
Via RT. This piece was reprinted by RINF Alternative News with permission or license.