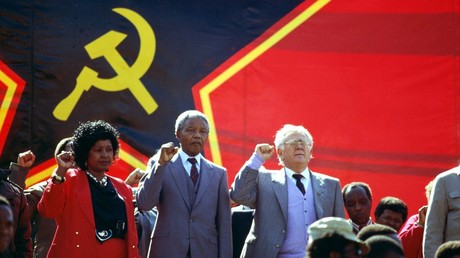 Theresa May repeatedly refused to deny that she believed the Nobel Peace Prize-winning former South African leader Nelson Mandela was "a terrorist" during a tense televised interview.
Speaking to Channel Four's Michael Crick during her visit to South Africa, May was asked repeatedly to outline her historical position on African National Congress (ANC) leader Mandela, refusing each time to do so.
Crick asked: "Mrs May, you're about to visit Robben Island – you were active in politics in the 70s and 80s: what did you do to help release Nelson Mandela?"
May responded by broadening the question, "Well I think what is important is what the United Kingdom did."
READ MORE: Maybot strikes again: Watch the PM's cringeworthy dancing in South Africa
After several more attempts at getting an answer, Crick interjected: "But hang on a moment, at that stage Margaret Thatcher thought Nelson Mandela was a terrorist! Were you a loyal Conservative Party member? Did you think the same thing?"
To which he again didn't get a straight answer.
May was speaking ahead of her visit to Robben Island where Mandela was imprisoned for 18 years. In 1987, as calls for Mandela's release grew, Tory Prime Minister Margaret Thatcher stated: "When the ANC says that they will target British companies, this shows what a typical terrorist organisation it is."
May attempted to avoid the question, talking up the UK government's "support," which, according to her, ensured "that we saw the result that we did in relation to the ending of apartheid here in South Africa."
Theresa May and the Tories supported apartheid South Africa supported the imprisonment of Nelson Mandela called him a terrorist and now taking photos inside his cell.. what for? Neo colonialism Looking for business for Gold diamonds resources.. FFS!!! Tories are horrific pic.twitter.com/eh8YkN9Wh9

— ARTIST TAXI DRIVER (@chunkymark) August 28, 2018
From 1948 till the early 1990s, the National Party (NP), a government that invariably was supported militarily and financially by both the US and UK, enforced racist apartheid laws. The laws saw black South Africans treated as second class citizens, and their segregation from their white counterparts who had significantly more access to owning property or land, among other benefits.
Mandela, a one-time member of the South African Communist Party, was a figure of hate in some sections of the Tory Party. The Federation of Conservative Students – the official Tory Youth group at the time – wore stickers calling for Mandela to be hung, a point recalled by Labour Shadow Chancellor John McDonnell.
For years there was a 24 Hour permanent picket of South Africa House in Trafalgar Square that Jeremy and I supported. I spent one Christmas Day there singing anti apartheid carols. This was at a time when the Young Tories & many Tory MPs were calling for Mandela to be hung. https://t.co/cGZINmU3SU

— John McDonnell MP (@johnmcdonnellMP) August 29, 2018
Don't be fooled by Theresa May who now says Nelson Mandela is a hero as while Jeremy Corbyn was being arrested for protesting Apartheid, Tory Associations were handing out Hang Mandela leaflets and Thatcher was calling him a terrorist. pic.twitter.com/X6zFeNEcxJ

— The Pileus (@thepileus) August 28, 2018
Along with now-Labour leader Jeremy Corbyn and others, the pair were high-profile figures of the British anti-Apartheid movement. Corbyn was among those arrested in 1984 during a rally outside South Africa House.
If you like this story, share it with a friend!
Via RT. This piece was reprinted by RINF Alternative News with permission or license.