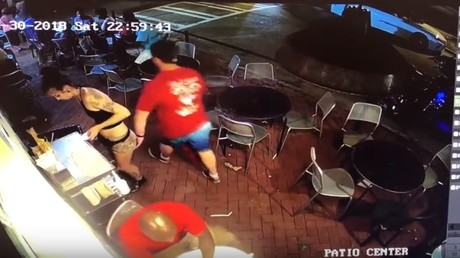 A US waitress who put a customer in a chokehold after he grabbed her backside says she's glad she showed other women how they can stand up for themselves.
Emelia Holden was waiting tables at a VinnieVanGoGo's restaurant in Savannah, Georgia, when she was touched on the bottom by a handsy patron. The incident was caught on CCTV and shows a man dressed in a red t-shirt move his hand onto the buttocks of Holden as she is looking at a notepad.
Holden can then be seen to burst into action, grabbing the man by the throat before slamming him into a table. According to the 21-year-old pizza restaurant worker, she had just taken a customer's order when she felt a hand touch her.
READ MORE: 'Body slam' cop sparks fury after shocking Texas schoolgirl arrest (VIDEO)
"I took someone's order and I was getting ready to set them up and then I just felt it," she told WAFB news. "I was like, 'nope that's not going to happen' and turned around and took the guy down."
The man in the footage has since been identified as 31-year-old Ryan Cherwinski of Florida, who was apparently on a date with his wife at the time. Cherwinski has been charged by Chatham County Sheriff's Office with sexual battery over the June 30 incident, reported WSAV.
However, he has reportedly said that the grope was an accident and happened when he tried to move Holden from out of his path. Footage of the restaurant employee's no-nonsense approach has since gone viral, amassing more than 1 million views online.
The video has also garnered much reaction online, with many people praising the young woman's actions. "This is just beautiful. What a champion she is. Not even a moment of hesitation," one person wrote.
"Honestly, the gall of that motherf***er. She would have been well within her rights to smash him a couple more times," another said.
READ MORE: Dramatic moment teacher body slams student captured on camera (VIDEO)
"He got what he deserved," a third added. "Don't touch anyone without their permission."
Holden said she's been overwhelmed by support from people. "I'm not glad that it happened, but I'm glad that it's had such a positive outcome," she said. "I'm glad that other women can see this and know that you can stand up for yourself."
Like this story? Share it with a friend!
Via RT. This piece was reprinted by RINF Alternative News with permission or license.