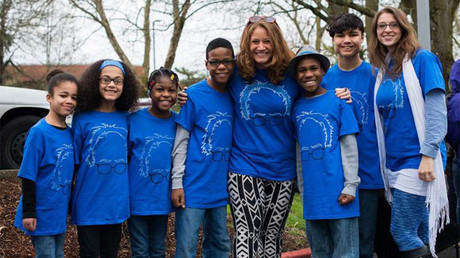 Mystery surrounds a car accident in California which investigators believe claimed the lives of viral protester Devonte Hart and his entire immediate family.
It's thought that Devonte Hart was a passenger in the vehicle which was found at the bottom of coastal cliffs in Mendocino County, California. The crashed car was spotted upside down by a passerby on Monday, but police say they're still unsure when or how the vehicle plunged 75 feet into the Pacific Ocean.
Photos of Devonte Hart, 15, went viral during a 2014 police brutality protest in Portland, Oregon. The images showed the boy hugging a Portland cop during a support rally for Michael Brown, who was shot dead by police in Ferguson, Missouri.
Mendocino County Police confirmed that two adults were found inside the wreckage of the vehicle, while the bodies of three children were discovered close-by. County Sheriff Tom Allman described the scene along Highway 1 as "very confusing."
READ MORE: 'Gun, gun, gun': Police mistake cell phone for firearm, shoot suspect 20 times (VIDEO)
Devonte and two others are currently missing, presumed dead. Allman confirmed that Devonte's parents – Jennifer and Sarah Hart – were killed in the crash along with children Marcus, Jeremiah and Abigail.
"There was no skid marks, no brake marks, there was no indication of why this vehicle traversed approximately over 75 feet into the Pacific Ocean," he added. "We have no reason to believe that this was an intentional act."
Allman admitted a number of unknowns exist at this stage of the investigation, but added that investigators believe that a whole family perished in the mysterious crash.
READ MORE: Black Lives Matter supported by 51% of young white Americans – poll
"We know that an entire family vanished," Allman said. "When I say the entire family, we have every indication to believe that all six children were in there. However, only three bodies have been recovered. Devonte, we believe was in the vehicle. However, we have not recovered his body and two others."
Police are now appealing for information about the movements of the family in the hours leading up to the incident.
Think your friends would be interested? Share this story!
Via RT. This piece was reprinted by RINF Alternative News with permission or license.