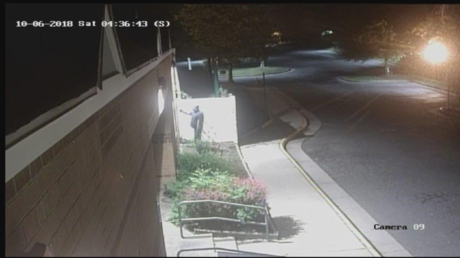 The Jewish Community Center of Northern Virginia has been spray-painted with at least 19 swastikas. Although the suspect was captured on CCTV, the vandal still remains at large.
The incident occurred early on Saturday in Annandale, when a man – it is being presumed – spray-painted numerous white swastikas over the center. The suspect was well disguised and his identity remains unknown.
Stills from CCTV footage, released by Fairfax County police, show the suspect, sporting a dark blue T-shirt over a gray hoodie walking past the JCC and painting the offensive symbols on the building. The suspect was also seemingly well-prepared for the vandalism act and was equipped with a headlamp.
"As many of us recognize, these acts do not represent the community around the J of the community in Northern Virginia. As we also know our neighboring churches also have suffered recent vandalism," the center said in a statement.
Later on Saturday, some locals went to the center to help to scrub the swastikas off. Others made donations to help cover the cost of the professional removal of the hate symbols.
Police are now investigating the matter but have yet to catch the perpetrator of the vandalism attack. Annandale has experienced a number of such acts in recent history. The JCC suffered a similar attack in April of last year, with swastikas and a Nazi flag painted on the front of the building. Little River Church of Christ was also vandalized in the same neighborhood at the same time, with anti-LGBT and anti-immigrant messages. One of the graffitis left on the church read, "Defend America, no Muslims, no traitors."
Week of hate: Jewish-owned building in NYC & mosque in Tennessee vandalized
Local politicians condemned the move, emphasizing there is no room for hate in the peace-loving community. "An insidious rise in hateful actions and anti-Semitism is happening in Virginia and across the country," Virginia Democratic Senator Tim Kaine said on Twitter. "We must meet it with fierce condemnation and an over-abundance of love and unity. We cannot allow hate to fester."
Like this story? Share it with a friend!
Via RT. This piece was reprinted by RINF Alternative News with permission or license.