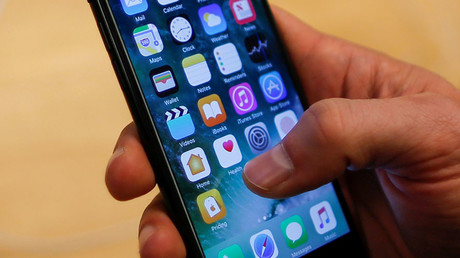 US road safety regulators want smartphone makers to "lock out" devices and some apps when users are driving. New guidelines also urge "driving mode" to be added to phones' menus as the government seeks to reduce crashes.
Federal auto safety regulators have called on Apple, Samsung and other popular smartphone manufacturers to design their devices so that they can "pair" with car systems. When paired with a vehicle, a phone could automatically block videos not related to driving, text scrolling, access to photographs, books and texting. 
The National Highway Traffic Safety Administration (NHTSA), which issued non-binding guidelines, also wants phone-makers to add "driving mode," analogous to the already existing "airplane mode," although it would turn on automatically. It would provide "a simplified interface" when the device is being used unpaired while its owner is driving.
"As millions of Americans take to the roads for Thanksgiving gatherings, far too many are put at risk by drivers who are distracted by their cellphones," US Transportation Secretary Anthony Foxx said.
The NHTSA cannot force phone makers to comply with its recommendations, but it hopes that they will adopt the guidelines. The agency has acknowledged that such add-ons as pairing could lead to privacy concerns, but offered no solutions on how to minimize those risks.
Yet, it says that crash data indicate that portable devices, particularly cell phones, are often "the main distraction" for drivers involved in crashes.
"In 2015, 10 percent of the 35,092 traffic fatalities involved one or more distracted drivers, and these distraction-affected crashes resulted in 3,477 fatalities, an 8.8 percent increase from the 3,197 fatalities in 2014," the NHTSA wrote in its guidelines.
According to the agency's official data, between January and June 2016, an estimated 17,775 people died in car accidents, which represents an increase of more than 10 percent compared to last year.
"NHTSA has long encouraged drivers to put down their phones and other devices, and just drive," the agency's Administrator Dr. Mark Rosekind said. "With driver distraction one of the factors behind the rise of traffic fatalities, we are committed to working with the industry to ensure that mobile devices are designed to keep drivers' eyes where they belong – on the road."
Both Samsung and Apple already have options which could help keep users less distracted while on the road. iPhone, for example, has long had its "do not disturb" mode, which blocks incoming calls and texts. Both companies also have software created to work with cars. Apple's CarPlay and Google's Android Auto let users connect their phones to vehicles to minimize use of the device while driving.
In October, PokemonGo developer Niantic has also stepped up safety precautions by imposing "speed limits" and disabling the game when a player is driving or moves faster than 10 miles per hour.
On the other side, most new vehicles today have software that connects to a smartphone and allows drivers to place phone calls, dictate texts and use apps hands-free.
Via RT. This piece was reprinted by RINF Alternative News with permission or license.