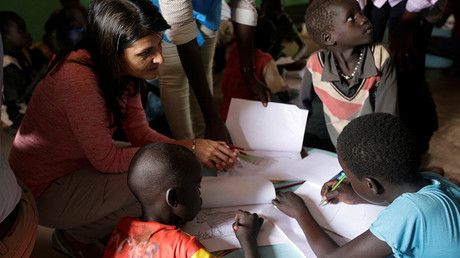 The US envoy to the UN, Nikki Haley, was evacuated from a UN refugee camp in South Sudan due to a demonstration against the country's president, US media outlets have reported.
Haley was at a UN-run camp for internally displaced persons when a protest against South Sudanese president Salva Kiir got out of hand, according to CBS News.
After Haley's departure, UN security guards fired tear gas to disperse a crowd of over 100 camp residents who were looting the offices of a charity, CBS reported citing an aid worker who wished to remain anonymous.
US official confirms that UN Ambassador Nikki Haley had to be evacuated from event in South Sudan w/Prez Kiir after large crowd approached.

— Rich Braham (@MoBetterNews) October 25, 2017
Haley has already moved on to the next stop in her Africa tour, the Democratic Republic of the Congo, according to US officials.
The UN confirmed the incident at the camp, saying that residents "became upset that she was not able to meet with them, due to time constraints."
Earlier on Wednesday, Haley had met with Kiir and told him that Washington "no longer trusted" South Sudan's government and was no longer prepared to wait for change, according to her statements on the UN-run Radio Miraya, cited by US media.
"We are disappointed by what we are seeing. This is not what we thought we were investing in," Haley said in remarks released by the UN. "What we thought we were investing in was a free, fair society where people could be safe and South Sudan is the opposite of that."
The US was instrumental in the creation of South Sudan in 2011, and has donated more than $5 billion for humanitarian aid and development initiatives, according to the US embassy in Juba.
In 2013, however, South Sudan became embroiled in civil war, which has caused more than two million residents to flee the country. There have been reports of starvation, government corruption, and war crimes as well.
Via RT. This piece was reprinted by RINF Alternative News with permission or license.