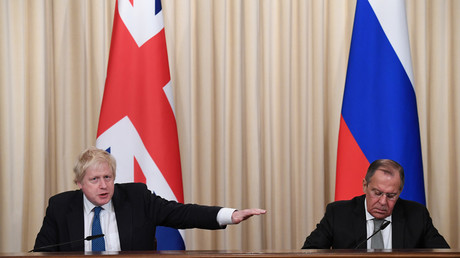 Boris Johnson has clarified his likening of the Soviet Union to "militaristic" Sparta, aiming to put the subject to rest. But his Russian counterpart, Sergey Lavrov, fired back, noting that Spartans are glorified by the West.
READ MORE: 'Measure of my trust': Johnson has no problem handing Lavrov his coat with secrets
When asked by a journalist about his recent comparison during an interview with The Times, the British foreign secretary aimed to put the record straight. He said he "wouldn't want Russian colleagues here to think that those words were applied to Russia today." Instead, he insisted those words "were applied to the Soviet Union of my childhood. And indeed, I believe that was an entirely accurate description of the Soviet Union as it then was and behaved."
Johnson presumably hoped the subject would be put to rest after that clarification, but his Russian counterpart, Sergey Lavrov, had something to say on the matter. "As for Sparta… honestly I do not remember the Soviet Union glorifying Sparta as an example the Soviet Union was supposed to emulate," he said. "But if we look at the US, you'll see that… Hollywood was singing and praising [Spartans] as a paragon of courage and power. Everyone has their own perception of history anyway."
The British official also stressed during the press conference the current relationship between the US and Moscow is a "regrettable state of affairs, but it should not preclude cooperation… and it should not preclude an intensification of our contacts and our work together, people to people and communities to communities."
The comments were made following a meeting between Johnson and Lavrov on Friday. Johnson is the first foreign secretary to visit Russia in five years, amid strained relations between the two nations.
Via RT. This piece was reprinted by RINF Alternative News with permission or license.