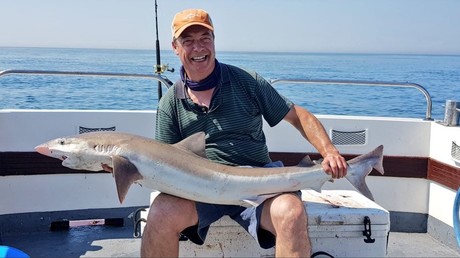 As Brexit spirals towards disaster, former UKIP chief and Leave bigwig Nigel Farage has apparently found solace in the open seas, where he treated his "depression" with a bit of fishing. Twitter, it seems, wasn't sympathetic.
The polarizing MEP, who spearheaded the Leave campaign, decided to express his grief over the weekend amid reports Prime Minister Theresa May proposed a watered down 'soft' Brexit, which would keep Britain tied to many EU regulations. "Depressed over Brexit. Went fishing," Farage tweeted, attaching a photograph of himself holding a Tope Shark on a boat, his face beaming with a wide grin.
Twitter was not amused. "You mean 'I'm depressed that me and my millionaire mates aren't going to be able to get around new EU tax dodging laws so I thought I'd go torture an animal,'" one Twitter user responded. "Depressed over Brexit? Know how you feel pal #brexitsad #remain," another wrote.
Other tweets took issue with the photograph, suggesting that the MEP was trying to portray himself as a commoner.
Still, others expressed deep sympathy for the shark:
Imagine getting dragged out of your world by a metal hook in your bleeding mouth and then the last thing you see is Nigel Farage. https://t.co/w97J0xCPjd

— Jamie Ross (@JamieRoss7) July 7, 2018
Farage's tweet also netted a fair amount of dry humor – not to mention creative photoshopping.  
"This is not the picture of Nigel Farage and a shark that I've been praying for," one Twitter user lamented.  He was quickly cheered up by an altruistic Microsoft Paint master:
The status of the shark that Farage caught was also a topic of discussion. The Blue Planet Society said it was "depressed" over Farage catching a Tope shark and using it to get attention on social media.
Farage later claimed that he returned the animal, according to the BBC. However, many social media users remain unconvinced.
Like this story? Share it with a friend!
Via RT. This piece was reprinted by RINF Alternative News with permission or license.