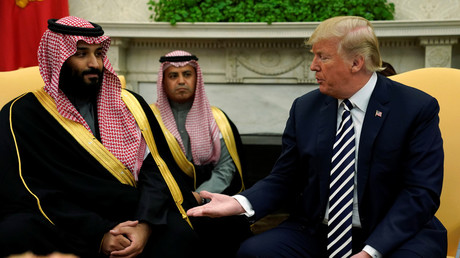 US President Donald Trump has again sparked massive backlash from the internet, this time praising Saudi Arabia for helping to lower global oil prices amid the fallout from the murder of journalist Jamal Khashoggi.
"Thank you to Saudi Arabia, but let's go lower!" the US president tweeted out on Wednesday, praising the fact that oil prices were dropping.
It didn't take the Twitterati long to get their typing fingers ready and hammer away at their keyboards.
"REAL Presidents do not do PR for murderous regimes," one #Resistance activist wrote, referring to the popular belief that Saudi Crown Prince Mohammed Bin Salman ordered the killing of Khashoggi at the Saudi consulate in Istanbul, Turkey last month.
A comedy writer questioned whether oil prices were cut using a bone saw, the same gruesome tool that was reportedly used to dismember Khashoggi's body, according to anonymous Turkish sources.
One activist implied that Trump's loyalty to Saudi Arabia is reminiscent of the behavior of a "mob boss."
In a tweet aimed directly at Trump, one user wrote: "Oh, ok I can fill up for a buck cheaper, but the Saudi's can silence free speech? Big deal." His comment was an apparent reference to the fact that Khashoggi was seemingly killed for being an outspoken critic of the Saudi government.
Then there was this picture, which speaks a thousand words.
Some members of Congress are also angry about Trump declining to cut ties with Saudi Arabia over Khashoggi's death, including several Republicans.
READ MORE:  Stop being 'Saudi Arabia's b*tch,' Tulsi Gabbard tells Trump, critics pounce
"It is a delicate situation when we have a long-term ally that we've had for decades, but we have a crown prince that I believe ordered the killing of a journalist," Senator Bob Corker (R-Tennessee) told Chattanooga TV station WTVC while in his home state. "We don't have a smoking gun. Everything points to the fact that he knew about it and directed it."
In a much-criticized statement on Tuesday, Trump had said that "it could very well be that the Crown Prince had knowledge of this tragic event – maybe he did and maybe he didn't," adding that the public may never know all the facts surrounding Khashoggi's death.
Like this story? Share it with a friend!
Via RT. This piece was reprinted by RINF Alternative News with permission or license.