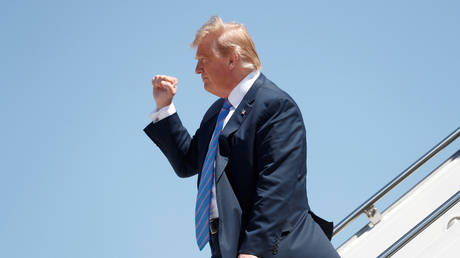 US President Donald Trump says he hasn't actually read Special Counsel Robert Mueller's report yet, adding that he knows the investigator's conclusions, chiefly "the big one, no collusion."
In a pair of tweets sent out on Saturday, Trump outlined that he hasn't read the special investigator's report into allegations that the Trump campaign team colluded with Russia and accusations that the president himself obstructed justice.
The key finding, Trump pointed out, was no evidence of collusion or obstruction and he labelled the entire enterprise as a "total waste of time."
I have not read the Mueller Report yet, even though I have every right to do so. Only know the conclusions, and on the big one, No Collusion. Likewise, recommendations made to our great A.G. who found No Obstruction. 13 Angry Trump hating Dems (later brought to 18) given two…..

— Donald J. Trump (@realDonaldTrump) April 6, 2019
…..years and $30 million, and they found No Collusion, No Obstruction. But the Democrats, no matter what we give them, will NEVER be satisfied. A total waste of time. As @FrankLuntz has just stated, "Enough, America has had enough. What have you accomplished. Public is fed up."

— Donald J. Trump (@realDonaldTrump) April 6, 2019
US Attorney General William Barr recently said that a redacted version of the report would be made public by mid-April. Hardcore Russiagate enthusiasts have accused Barr of attempting to bury or cover-up elements of the report, even though Mueller did not issue further indictments under his investigation.



Also on rt.com
'We will survive!' Russiagaters hold cult-like 'Release the Report' rally complete with songbook




If you like this story, share it with a friend!
Via RT. This piece was reprinted by RINF Alternative News with permission or license.