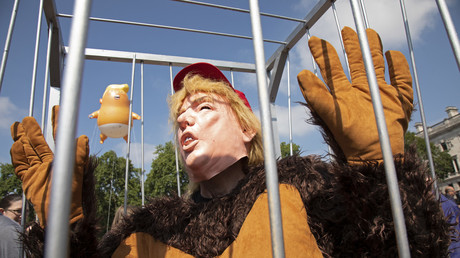 From the instantly-iconic gigantic orange baby to the furry gorilla locked in a cage, here are the many faces of Donald Trump which protesters flaunted in central London as they opposed the US president's visit to the UK.
Trump Dalek
One lookalike that caught a lot of attention was a Trump Dalek which was spotted walking near Whitehall. The Dalek, who bore Trump's hair and his iconic red tie, was escorted by 'secret agents' and a 'Theresa CyberMay.'
READ MORE: 'We'll destroy the world': Dalek Trump & 'CyberMay' hit London during mass protest (VIDEOS)
According to Doctor Who's official website, Daleks are "one of the most feared races in the universe." Their creator's sole purpose is to "destroy all life" besides that of the Dalek race.
A video posted on Twitter captured the Dalek Trump talking to CyberMay. "You are my friend, you are my very good friend," Trump says. "You are so strong and stable." CyberMay responds: "You are so rational and intelligent."
#DalekTrump invades Westminster! Props to the excellent Secret Service Agents armed with plungers and Theresa CyberMay. They will destroy your planet one climate agreement at a time! pic.twitter.com/8DQRUuCQdh

— Al Binnie-Lubbock (@alastairis) July 13, 2018
Trans-Trump
Among the thousands of protesters, there also seemed to be Trump's genuine Doppelganger. A man, in fact, looked the spitting copy of the US president as he wore his trademark navy jacket, white shirt and red tie, as well as his Make America Great Again cap.
Were it not for the pink bright tights and white pointed heels, he could effectively sell himself as the 'Real Donald Trump'.
The man was one of many drag artists who turned up to the demonstration. One of them was snapped carrying a sign that read, 'No closets, no cages' while another dressed as the Statue of Liberty.
Caged Gorilla
One man stuck a Trump mask on his face, dressed up as a gorilla and locked himself in a cage as part of his act of opposition. He was accompanied by a Boris Johnson lookalike and they held posters saying 'Thump the Orange Gorilla at the Big World Zoo.'
The Johnson lookalike is Drew Galdron who says he is frequently mistaken for the former London mayor as he moves around the UK capital. If he ever gets any hassle he says his favorite tactic is to throw glitter on the hecklers.
Baby Trump
The giant balloon of a baby Trump that floated over Parliament Square in London to kick off a 55,000-strong protest indisputably won the day. The 20ft inflatable balloon was given the green light by London Mayor Sadiq Khan, who previously called on Trump's visit to be scrapped, saying his "policies go against everything we stand for."
READ MORE: German public TV trolls Trump with baby balloon collages
The helium-filled blimp depicted the president as an enraged, smartphone-clutching baby in a nappy.
The balloon both enraged and delighted the public with some thinking it was hilarious while others thought it was disrespectful and shameful. "Shame on everyone involved in this pathetic balloon stunt," breakfast show host Piers Morgan said.
German public TV channel ZDF had another take entirely. It's 'heute' show embraced the balloon and photoshopped it into photos of Trump throughout his trip to Europe.
Like this story? Share it with a friend!
Via RT. This piece was reprinted by RINF Alternative News with permission or license.