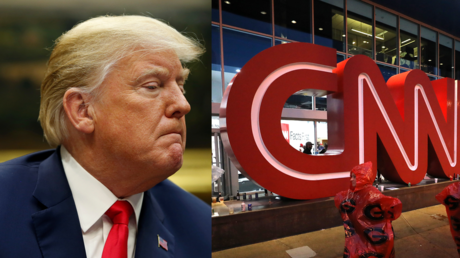 CNN has fired back at Donald Trump after the president skewered journalist Carl Bernstein, who co-authored a Russiagate blockbuster for the network that has since come under scrutiny after a source for the story recanted.
"Sloppy @carlbernstein, a man who lives in the past and thinks like a degenerate fool, making up story after story, is being laughed at all over the country!" Trump wrote. He said that the network was being "torn apart from within" after being "caught in a major lie and refusing to admit the mistake."
Unshaken, the network fired back on Twitter. "There may be many fools in this story but @carlbernstein is not one of them," CNN's communications team wrote.
"CNN does not lie. We report the news. And we report when people in power tell lies. CNN stands by our reporting and our reporters."
Bernstein, who became a household name after helping to break the Watergate scandal, posted his own response to the president's incendiary tweet, claiming that he has spent his career "bringing the truth to light" and won't be intimidated by "taunts."
"@CNN stands by its story, and I stand by my reporting," he tweeted.
The Twitter feud comes after CNN signaled that it was standing by its explosive report on an infamous Trump Tower meeting between his son and Russians who allegedly offered him dirt on Hillary Clinton. Ex-Clinton aide Lanny Davis, who now represents Michael Cohen, admitted earlier this week that he was an anonymous source for the story and recanted key details he provided to CNN. Numerous media outlets have since corrected reports about Trump having prior knowledge of the 2016 meeting – but CNN won't budge, even after claiming that Davis declined to comment on the bombshell revelations.
Despite the vigorous rebuttals offered by Bernstein and CNN, the network has yet to address why it claimed in its original report that Davis declined to comment for the Trump Tower blockbuster – even after he came forward as a source.
The troubling contradiction was noted by the president, who posted a follow-up tweet after sparring with the network.
"Oh well, so much for CNN saying it wasn't Lanny. No wonder their ratings are so low, it's FAKE NEWS!"
READ MORE: Honest mistakes or fake news? CNN's top Trump-related reporting gaffes
Like this story? Share it with a friend!
Via RT. This piece was reprinted by RINF Alternative News with permission or license.