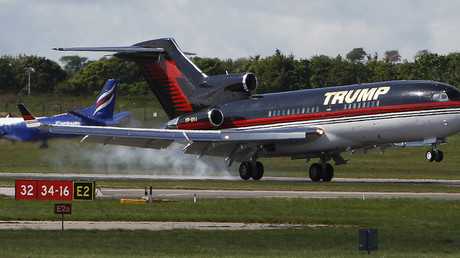 US President Donald Trump's infamous black and red private jet, nicknamed Trump Force One, has been damaged during a parking mishap at LaGuardia airport in New York.
The Boeing 757 which ferried Trump and his team around the country during the 2016 presidential campaign has been parked in the airport hangar since his election but was struck by a corporate jet during parking maneuvers at roughly 8:30am local time Wednesday.
The other corporate jet, a twin-engine Bombardier Global Express, had three crew on board at the time of the accident, but Trump's plane was unoccupied.
The corporate jet had just completed an 18-minute flight from Islip, on Long Island, and flew to Connecticut later that day, so the damage to the wing was most likely superficial in nature. Trump's private plane is no longer tracked while he is the sitting president.
There were no injuries in the incident and no impact on airport operations, according to The Port Authority of New York and New Jersey, which operates the airport.  
Trump reportedly bought the jet from the late Microsoft co-founder Paul Allen in 2011 for $100 million and retrofitted it in true Trump fashion with 24-carat gold fixtures, a leather interior and the family name in big, gold letters emblazoned on the side of the aircraft.
Trump Force One featured in many of his 'hangar rallies' on the 2016 campaign trail.
Like this story? Share it with a friend!
Via RT. This piece was reprinted by RINF Alternative News with permission or license.