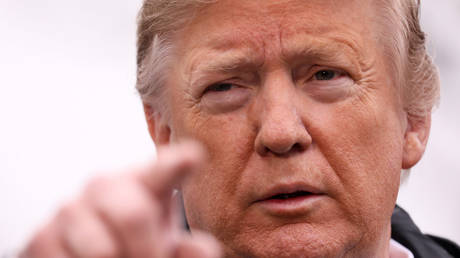 US President Donald Trump railed against what he claimed was "one-sided hatred" on the part of late night comedy shows, signing off his tweet with a comment that has already drawn a lot of derision online.
In his Wednesday morning tweet, Trump tagged Fox & Friends which featured a segment in which the hosts discussed comments by former late-night host Jay Leno. The comedian said he'd like to see "a bit of civility come back," to late-night comedy adding that not "everyone has to know your politics."
Leno added that, such is the absurdity of the Trump administration in his opinion, that it is actually harder to do jokes about the president.
"No, it's actually harder because the punch line of the joke used to be, 'That's like the president with a porn star.' Well, now the president is with a porn star. Where do you go with that? How do you get more outrageous than that?" Leno told NBC's 'Today' show.



Also on rt.com
Trump Derangement Syndrome is now fastest growing disorder in America – are you a sufferer?




Trump is the low-hanging fruit for late night comedians such as Stephen Colbert, John Oliver, Trevor Noah and Jimmy Kimmel, and also features heavily in skits on SNL, with whom he has somewhat of an ongoing feud.
Naturally, Twitter was divided between Trump fans who mocked his unorthodox use of "we" when signing off his tweet and those who agreed that late night comedians were biased.
A relatively small few rushed to defend Trump.
While a large number of responses to the president were drenched in sarcasm and derision, while firing a few pot shots at Leno.
Like this story? Share it with a friend!
Via RT. This piece was reprinted by RINF Alternative News with permission or license.