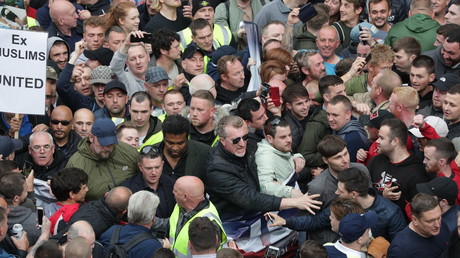 UKIP's Lord Pearson has faced criticism after hosting Ex-EDL leader Tommy Robinson at Parliament. The peer was filmed with the anti-Islam activist on parliamentary grounds, prompting criticism in the House of Lords.
Ex-UKIP leader Lord Pearson raised the issue of sexual offenders from an Asian background in the House of Lords this week. He asked the House whether or not there was a UK-wide fear of addressing issues within Islam or speaking publicly about them.
"Will the government encourage a national debate about the various interpretations of Islam? Can we talk about Islam without being accused of hate crime?" asked the peer.
READ MORE: Free speech or hate speech? Right-wing activists 'banned' from Britain (VIDEOS)
Days later he invited Robinson, who has recently rebranded himself as an independent video journalist, to meet with him. The focus of Robinson's content is invariably on crimes committed by Muslims, including so-called grooming gangs of South Asian men that operated in Rotherham and Newcastle, among other places.
However, the meeting with Robinson has proved controversial. Robinson led the EDL, a far-right street protest movement whose marches often turned violent in the several years of their existence.
Former Conservative Party chairman Baroness Warsi asked whether it was "appropriate" for Robinson, real name Stephen Christopher Yaxley, to be hosted in Parliament.
READ MORE: Hard-hitting news: Tommy Robinson's journalism career starts with car-park brawl, punching a migrant
"Does the minister agree with me that all members of this House should be working to eradicate all forms of hate speech?" she asked. "Maybe if he has the opportunity to do so, he would explain whether he thinks it appropriate for members to host the likes of Tommy Robinson within the precincts of this House at a time when there is an increased risk in relation to hate crime and members of the other House have been receiving hate letters."
Lord Pearson refused to address Baroness Warsi's comments. Instead he asked: "Does hate speech include criticizing Islam or any of the world's great religions as opposed to insulting their adherents? Does our legislation make that distinction and, if not, should it not do so?"
Baroness Williams weighed in, saying: "There is a clear distinction. Expressing one's own opinion can offend people; there is a right to offend. However, there is no right to propagate speech that goes to a particular characteristic, whether that be race, religion, disability or sexuality, and promotes hatred against that person.
"As legislators for this country, we have got a strong leadership role to take and it does dismay me when I see that certain quite extreme people are actually being invited into the Palace of Westminster to propagate some of their hate."
Lord Pearson's decision to meet with Robinson in Parliament also prompted criticism from within UKIP. Ex-deputy chair Suzanne Evans told Sky News "it wasn't a sensible thing to do."
She said: "There are many of us who are concerned about the extremes of Islam but there's no need to talk to Tommy Robinson to get your information."
Robinson is currently campaigning ostensibly on free speech. The groups he has led, have, through their anti-Islam message, often been accused of stirring up racial divisions.
If you like this story, share it with a friend!
Via RT. This piece was reprinted by RINF Alternative News with permission or license.