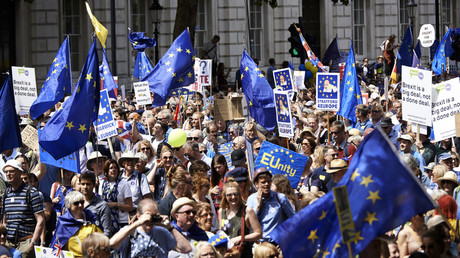 An estimated 100,000 Brexit opponents marched in the streets of London calling for Britain's break-up with the EU to be stopped or for a second referendum to be conducted. Thousands of Brexit supporters rallied in the capital too.
Drone footage posted by RT's Ruptly agency shows droves of Brexit opponents marching towards parliament on the second anniversary of the country's decision to leave EU.
Some carried EU flags, while others held placards that read "Brexit stole my future" and "We demand a vote on the final Brexit deal." They claim the decision to leave the bloc is not a done deal yet, and people must make their voices heard.
Meanwhile, a counter-protest also took place in London on Saturday, with pro-Brexit demonstrators pushing for the government to continue with its plan to leave the EU – a move which is slated for March 2019.
RT spoke to the leader of the UK Independence Party (UKIP), Gerard Batten, who said the mainstream media conveniently ignored the pro-Brexit rally.
"I've just come from a pro-Brexit march and a rally which was held outside the BBC and Sky and ITV's studios…but funnily enough, nobody came out to interview us or filmed it, as far as I know. They're not giving much publicity to the other side of the argument – the argument that says we had the referendum, we reached a decision, and now we should have left and we certainly should be leaving as soon as possible," Batton said.
He went on to address discussions surrounding a so-called "hard Brexit" and "soft Brexit," saying there is no such thing. "There is [only] leaving the European Union. And if you want to know what that looks like, all you've got to do is look at every other country in the world that isn't a member of the European Union. It's not complicated. They're [UK government] trying to make it as complicated as possible."
A recent poll carried out by Survation for ITV's 'Good Morning Britain' found that almost half of British people want a second referendum on Brexit. It suggests that a vote held today would reverse the outcome of the 2016 vote, which saw a slim majority of the country (52 percent) voicing their desire to leave the EU. (LINK )
Britain's government is also divided on whether or not to hold a new Brexit referendum, with the Conservatives and the main opposition Labour Party opposing it. The centrist Liberal Democrats, however, support a new vote.
Like this story? Share it with a friend!
Via RT. This piece was reprinted by RINF Alternative News with permission or license.