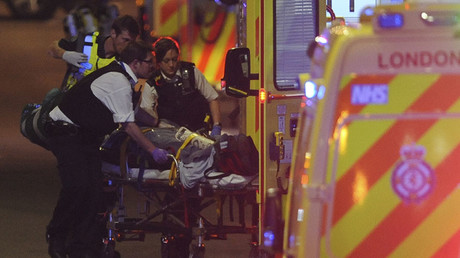 Prime Minister Theresa May should resign rather than seek re-election because her security failures allowed the recent spate of terror attacks to happen, said Steve Hilton, a former strategy advisor to David Cameron.
Posting on Twitter on Monday morning, Hilton appeared adamant that May should go.
Theresa May responsible for security failures of London Bridge, Manchester, Westminster Bridge. Should be resigning not seeking re-election pic.twitter.com/2o0odey2BQ

— steve hilton (@SteveHiltonx) June 5, 2017
On social media there has been some cynicism over Hilton's motives for speaking out.  Some have pointed out that Monday sees the premiere of Hilton's new show on Fox News, titled 'The Next Revolution'.
What a huge coincidence that Steve Hilton has demanded the PM's resignation on the day that his new TV show launches. https://t.co/Ph3p6zIYtI

— Mark Wallace (@wallaceme) June 5, 2017
May served as home secretary in Cameron's government for six years before she became PM. She presided over policing, counter-terrorism and Britain's domestic intelligence agency MI5.
Today's reminder that Steve Hilton will say absolutely anything

— Al Murray the318 (@almurray) June 5, 2017
She is under serious pressure ahead of Thursday's general election to address the links between her cuts to police budgets and the attacks on Westminster Bridge, Manchester Arena and London Bridge.
A former senior officer of the London Metropolitan Police has branded May and her Conservative government "liars" for their claims that police cuts had not left the public at risk.
Speaking to Sky News on Sunday, retired chief inspector Peter Kirkham said: "The police service is in crisis as a result of the cuts. They are being dragged from pillar to post. We hear talk of extra police officers on the street.
"They aren't extra, they are officers that have had to have their rare leave days cancelled, they have had their 12-hour shifts that are now done routinely being extended to 16 hours, they are being drawn from other areas."
Responding to Saturday evening's attack, which killed 7 and left 50 injured, one lone officer took on the knife-wielding attackers armed with just a truncheon.
The British Transport Police (BTP) officer, who has only been serving for a short time, was stabbed in the hand, leg and head, but is reportedly in a stable condition.
"Although he is seriously unwell, he was able to recount how he faced the attackers armed only with his baton, outside London Bridge station," BPT chief constable Paul Crowther told the Telegraph.
"For an officer who only joined us less than two years ago, the bravery he showed was outstanding and makes me extremely proud."
Via RT. This piece was reprinted by RINF Alternative News with permission or license.