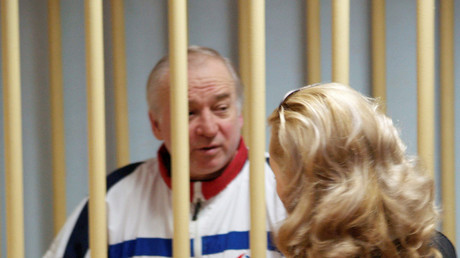 Authorities are still investigating how Russian ex-spy Sergei Skripal and his daughter fell into a critical condition. That hasn't slowed, let alone stopped, Britain's mainstream media in spinning some pretty wild theories.
Was it the work of Russian President Vladimir Putin, North Korea, or someone else entirely? So far, the media have come up with a grab-bag of theories despite no confirmation of any facts from either the Russian or the UK government.
Was it the McMafia? 
The Times penned an article headlined 'Peculiarities point towards twilight world of McMafia' on Tuesday. The newspaper wonders: Why would the Russians or Putin kill a spy, living peacefully and quietly (apparently) for the last eight years?
Skripal was handed over to the UK in a spy swap in 2010, so the newspaper asks why the side that handed the agent over to the UK would go on to kill him. The answer is simple: Russian mobs and their shady underground business. "So, if not Mr Putin then cui bono, who benefits from the crime?" Times journalist Ben Macintyre wrote.
He went on: "The answer could lie in the world of illegal business, as portrayed in the television series McMafia. The investigators will be entering that peculiar, twilight world linking big Russian business and state espionage. As one intelligence analyst observed: 'This smells quite oligarchical.'"
This is the easiest theory to throw out at the moment because the BBC just ran a big TV series about Russia's so-called 'McMafia'. Forming opinions based on fictional stereotypes is great to pull in an audience when there's nothing concrete to say.
Was it North Korea? 
According to the Express, it could have been North Korea. Not much is known about the reclusive dictatorship – so why not blame them?
"North Korea could have played a part in the suspected poisoning of the former Russian double agent Sergei Skripal, according to a secret agent who was also swapped with him to Britain as part of a deal," wrote Isabel Van Brugen.
Hmmm … Former spy speculates that North Korea could be behind another chemical attack on convicted Russian spy in UK https://t.co/oi0DDqabmI

— NorthKoreaRealTime (@BuckTurgidson79) March 6, 2018
"The nuclear arms expert, who was also convicted of treason by a court in Moscow said today: 'In theory, anyone can be behind the suspected poisoning in Salisbury, including North Korea.'" So it could be anyone? Or it is North Korea?
The Express reports comments made by Igor Sutyagin, who was released in the same spy swap that saw Skripal released to the UK – then extrapolates to link the alleged chemical attack and dodgy North Korea (seems legit).
Was it Putin? 
Probably the most common theory: Pundits have been wondering if this is the work of Russian president Vladimir Putin. He's up for re-election, and Skripal and his daughter have spoken out against the Kremlin.
The Sun has queried whether it was Putin, drawing parallels with the 2006 killing in London of former KGB officer Alexander Litvinenko, who was poisoned with polonium. The Sun's article, written by three journalists, said that "intelligence chiefs have declared that a vengeful Putin 'probably approved' (Litvinenko's) murder."
The article also said that "Former KGB chief Putin once said: 'Traitors always end in a bad way. Usually from a drinking habit or from drugs, right in the street.'" That means it simply must have been an order from the top – even though, in reality, officials are still refusing to speculate.
Was it a warning message? 
This may have been a message to other Russian operatives, according to Shaun Walker from the Guardian. Walker's theory questions whether the alleged assassination attempt was a deterrent – a warning to other operatives of the consequences of colluding with the enemy.
"The demonstrative killing of a traitor could be a warning to junior officers not to follow the same path," Walker's article said. "Russian officials have often made it clear that traitors will meet a sticky end one way or another."
The article did concede that it would be unusual to target spies after they have been swapped. It then questioned whether Skripal had a continuing relationship with British intelligence and was being punished for it.
If only we had the facts before blasting wild theories off into the public sphere…
Was it the mystery woman? 
According to the Daily Mail, "former Russian double agent Sergei Skripal may have been ambushed by attackers who sprayed him with poison in the street." If that were the case, wouldn't someone have seen it happen?
Do any #burners have any details on the mystery woman 2night? I know she is a Russian burned spy. How many show's? How much of a ❤ interest?

— Middle Aged Princess (@melbabebo) June 27, 2013
Luckily, the Mail alleges that a mystery woman was spotted by witnesses at the shopping center. It doesn't say who these witnesses are, but it does say that's what they saw. "Some witnesses have suggested the blonde woman in the (CCTV) footage may be a third person," said the Mail.
"This has not been declared as a counter-terrorism incident and we would urge people not to speculate," Wiltshire police temporary assistant Chief Constable Craig Holden said. Eyewitness Freya Church told the BBC it looked like the two people had TAKEN "something quite strong".

— mustclearsnow (@mustclearsnow) March 6, 2018
However, Freya Church, who spotted the pair "slumped" and "passed out" on the bench in Salisbury, said the couple pictured in the CCTV images were "100 percent" the people she saw… which suggests that the blonde woman spotted in the footage was simply Skripal's daughter, who is in a critical condition in hospital.
But let's not let facts get in the way of a good story. After all, the only alternative is to wait for a theory actually supported by proper evidence.
Think your friends would be interested? Share this story!
Via RT. This piece was reprinted by RINF Alternative News with permission or license.