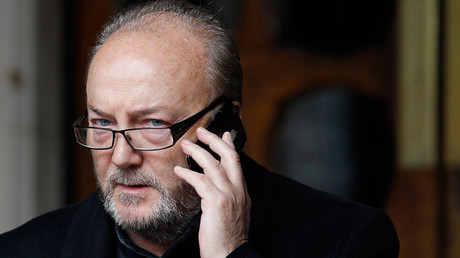 Leftist former MP George Galloway has de-registered the Respect political party founded in response to the Iraq and Afghanistan wars. The move has led to speculation he is poised to return to Labour.
He is reported to have de-registered Respect while claiming that the party's membership now backed Labour leader Jeremy Corbyn.
The Electoral Commission's register of political parties now shows that the party became voluntarily deregistered on August 18.
The party was founded in 2004 to give electoral expression to the mass popular resistance to British involvement in the US-led 'War on Terror' at a time when Labour remained under the leadership of former Prime Minister Tony Blair.
Galloway served as its leader and only MP – most recently after his storming win during the 2012 Bradford by-election.
Supporters of the fiery Scots politician believe he would form part of a potent trio of left-wing Labour figures alongside Corbyn and Shadow Chancellor John McDonnell.
The prospect of Galloway re-entering the Labour fold has rattled a number of Blairite MPs including vocal Corbyn opponent Jess Phillips, who said that a Galloway return would signal an abandonment of women by Labour.
Phillips tweeted quotes from Galloway in which he allegedly tried to redefine rape in relation to the case of WikiLeaks editor Julian Assange, who was accused of sexual assault against two Swedish women in 2011.
Galloway has always denied allegations of rape apologia and insists his record shows he is a defender of women's rights as a socialist MP.
Galloway was expelled from Labour by Tony Blair in 2003 over his fierce opposition to the Iraq war. The recent publication of the much-delayed Chilcot report, however, has in the view of many vindicated Galloway's position at the time.
Via RT. This piece was reprinted by RINF Alternative News with permission or license.