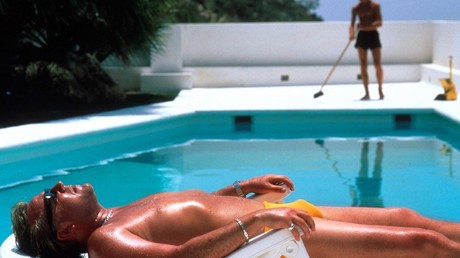 Another week, another UK-EU Brexit security row. Having already said no to the UK staying in Galileo, the European Defense Fund, and the Prum convention, Michel Barnier has added the European Arrest Warrant to the list of no-nos.
Barnier, the EU's point man in negotiating the final Brexit settlement with London, said on Tuesday that the UK would be denied access to the EAW system once it leaves the EU in March 2019.
At present, the EAW allows all 28 EU member states to issue warrants for suspects wanted for serious crimes across the continent without bureaucratic extradition negotiations between countries.
READ MORE: Drugs gang led by not-so-Super 'Mario' boss jailed for smuggling £63m of heroin into the UK
So, what will the UK lose out on if a new agreement regarding a continued relationship with the EAW isn't hammered out?
According to the most recent statistics provided by the UK's National Crime Agency (NCA), UK police issued 1,773 requests to fellow EU nations between 2010-2017, with 1,101 arrests made during the same period.
First, here are some examples of criminals nabbed via an EAW on the continent and in the UK:
Peter Atherton: Atherton fled to Spain after Merseyside Police linked him to a Wirral-based gang that moved up to 303kg of cocaine in just five months. According to the Liverpool Echo, Liverpool FC-mad Atherton was nabbed thanks to the issuance of an EAW that saw him arrested while he attended Liverpool's 3-3 Champions League group-stage draw against Sevilla last November.
James Mulvey: Described as "untouchable" by the NCA, Mulvey fled to Spain after being linked to a £67-million ($87.8-million) drug-smuggling ring in 2017. He was arrested at gunpoint last year by Lithuanian special forces and convicted in the UK last week.
On Wednesday morning, Metropolitan Police staged a dawn raid in which they arrested an Albanian man suspected of being part of a gang responsible for smuggling hundreds of migrants into the UK. Ten others were arrested across several EU states thanks to an EAW issued by Belgian authorities.
However, if the UK is to leave the EAW regime, others still wanted for serious crimes may get off the hook.
Stephen Watters: A 50-year-old Co Louth native, Watters was arrested in the Republic of Ireland earlier this year on the foot of an EAW issued by the UK for his alleged role in smuggling cigarettes and tobacco as part of a cross-border "organized crime gang." Currently out on bail, High Court extradition proceedings in the Republic are scheduled for October, where Watter's legal team has said their client's case would raise a legal point related to Brexit as part of his defense, according to the Irish Examiner.
Shane O'Brien: Wanted for the 2015 murder of Josh Hanson in London, O'Brien was added to Interpol's most-wanted list in May and is believed to be in Europe. Arrested in Prague for criminal damage while using the alias of an Italian citizen, he evaded capture after being released on bail when his false identity was backed up by documentation.
Mehmet Salih: Salih, a Turkish Cypriot national, is wanted by Leicestershire Police on suspicion of dealing in cocaine between December 2010 and November 2011. He is believed to have fled to Cyprus, a popular bolt hole for Greek and Turkish Cypriot criminals as well as British criminals looking to blend in with the island's growing British ex-pat community.
Think your friends would be interested? Share this story!
Via RT. This piece was reprinted by RINF Alternative News with permission or license.