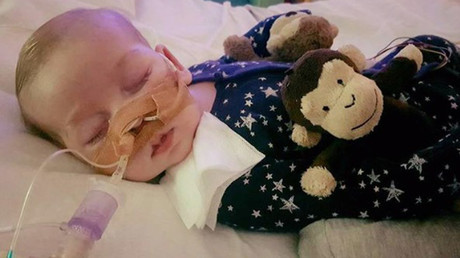 A terminally-ill baby at the center of an international legal challenge will be taken off life support Friday, three days after the European Court of Human Rights ruled it would not intervene in the boy's care.
Ten-month-old Charlie Gard is believed to be one of just 16 children in the world diagnosed with mitochondrial depletion syndrome, a genetic condition which causes progressive muscle weakness and brain damage. He cannot see, hear, move or swallow.
Charlie's parents had raised more than £1million in an effort to take their son to the US for experimental treatment. However, it has now been decided that the infant must stay in the UK and stop receiving life-support following consecutive decisions by London's High Court, Court of Appeal, Supreme Court and the European Court of Human Rights (ECHR).
READ MORE: Japanese scientists given green light to modify fertilized human eggs
The ECHR backed the rulings of the British courts Tuesday, finding further treatment would "continue to cause Charlie significant harm". He has been receiving treatment at Great Ormond Street Hospital (GOSH) in London since October 2016.
"The domestic courts concluded that it would be lawful for the hospital to withdraw life sustaining treatment because it was likely that Charlie would suffer significant harm if his present suffering was prolonged without any realistic prospect of improvement, and the experimental therapy would be of no effective benefit," the court said in its decision.
The courts based their judgements on advice from specialists at GOSH who believe Charlie has no chance of survival.
Parents Chris Gard and Connie Yates have criticized GOSH for denying their request to seek treatment for Charlie in the US. They also say the hospital denied their request to take Charlie home, or to a hospice, because they haven't got the specialist transport needed for the journey to the couple's southwest London home. GOSH reportedly denied the request again after the parents offered to pay for the service privately.
READ MORE: 'Almost a miracle': 1yo girl 'saved from incurable leukemia' by genome editing therapy
"Charlie will die tomorrow knowing that he was loved by thousands – thank you to everyone for all your support," said Yates in a statement posted on Facebook Thursday.
While a spokesperson for GOSH initially said there would be "no rush" to change Charlie's care after the ECHR ruling, Gard and Yates claim hospital staff have refused to let Charlie live through the weekend to allow for family members to say their goodbyes.

The hospital says it cannot discuss specific details about the child's care.
The £1.3million raised by over 80,000 people to help Charlie will be donated to a charity for mitochondrial syndrome, the boy's parents said.
Via RT. This piece was reprinted by RINF Alternative News with permission or license.