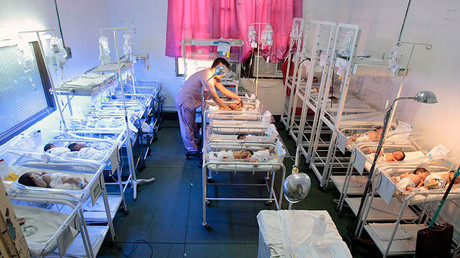 There's no doubt that witnessing the miracle of life can be a little traumatizing, but one grandmother has been awarded compensation for developing post-traumatic stress disorder after witnessing her granddaughter's difficult birth.
Calderdale & Huddersfield NHS Foundation Trust was forced to award compensation by the High Court after a chaotic delivery left the baby girl with neurological damage when she was born "flat and purple with a swollen head."
The baby didn't breathe for 12 minutes following the delivery, causing her mother and grandmother to assume she was dead.
Justice James Goss found witnessing the difficult birth and believing the baby was stillborn was "sufficiently horrifying" for the mother and grandmother to have PTSD.
The High Court found the midwives at Calderdale Birthing Unit failed to anticipate the risk in delivering the 10 lb (4.5 kg) baby in April 2011. They reportedly told the worried mother that "big babies just slip out."
However, during labour, the baby's shoulder got stuck behind the mother's pelvic bone. This caused the baby's brain to be deprived of blood flow before she was delivered.  
Justice Goss found the midwives prevented the specialist obstetrician from entering the room at a crucial moment and that the hospital destroyed medical records after legal action had begun.  
The ruling could open the door for similar cases of relatives claiming compensation for witnessing hospital procedures gone awry.
Calderdale & Huddersfield NHS Foundation Trust said it would appeal the decision.
Via RT. This piece was reprinted by RINF Alternative News with permission or license.