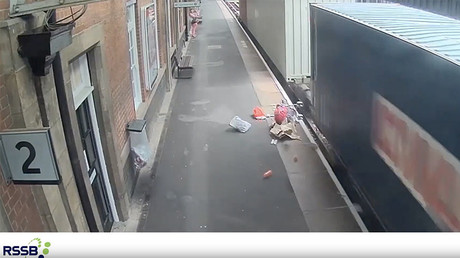 CCTV footage has captured the horrifying moment a stroller was totally destroyed by a speeding freight train after it rolled away from a mother. Thankfully the pushchair was empty.
The video shows a woman standing on the platform at Nuneaton Station. Taking her attention away from the buggy for a split second, the runaway stroller, which had shopping bags attached to it, rolls into the side of a train and is pulled down toward the tracks.
The buggy can then be seen blowing back onto the platform due to the air vacuum caused by the train.
The contents of the shopping bags are strewn across the station and the stroller itself is left a mangled wreck.
The Rail Safety and Standards Board (RSSB) released the footage to alert parents to the dangers at railway stations.
"The best way of keeping you, your children and your belongings safe is to keep hold of your pram, fully applying the brake where possible," a spokesperson said in a statement.
"We know that anyone looking after children will have their hands full and may feel they can't keep an eye on everything and everyone else.
"But the CCTV at Nuneaton shows just how important it is to keep control of a pushchair."
Via RT. This piece was reprinted by RINF Alternative News with permission or license.